We are witnessing the birth of a new generation of consumers. The latest generations – "millennials" and "centennials" – and those who are no longer so young but have quickly migrated to the new technologies, are setting the course for the economy in general and for banking in particular. Their new patterns of behavior and consumption create needs that change as quickly as the digital environment. It is essential that banks understand these needs so that they can help their customers make better financial decisions.
José Manuel González-Páramo, BBVA's Executive Member of the Board, Head of Global Economics, Regulation and Public Affairs, has identified three key keys to understanding the change in consumer behavior patterns: needs, time, and stress.
Needs. Most people are immersed in a constant flood of information and services to which they can connect via their devices. In this new environment, customers have more power than ever before and want their needs satisfied immediately. It is crucial to understand what services the youngest generations require, but it is also important to understand those required by people born prior to the Internet boom who are now quickly digitalizing.
Time. Studies show that, generally speaking, a person's average day can be divided into three 8-hour periods: 8 hours of work, 8 hours of sleep, and 8 hours for all other daily activities such as eating and relaxation. Recent estimates show that 1.5 of these last 8 hours per day are already being used on social media.
Stress. A study by GfK involving 27,000 people in 22 countries shows that, for most, money is the major cause of stress in their lives.
These three elements comprise the core area which the major technology companies and the banks are beginning to penetrate in such a manner that the borders between the two industries are disappearing. José Manuel González-Páramo explained that these two sectors (banking and technology) store the data they have on their customers so as to help them make decisions and create added value with services.
In this environment, it is essential to have the trust of one's customers since only then will they share their data with companies that will then create better products and services and thus increase customer trust. As José Manuel González-Páramo stated at a conference on "Banking in the Digital Age" organized by the Bank of Finland in Helsinki, "this is a virtuous circle."
José Manuel González-Páramo has also said that the major technology companies have created networks of interconnected products and services called "digital ecosystems". These ecosystems take advantage of synergies and offer customers an integrated experience that can satisfy a broad range of needs. In addition, they create powerful networks and generate and exploit enormous quantities of data.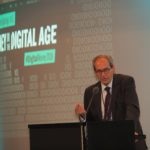 José Manuel González-Páramo, BBVA's Executive Member of the Board, Head of Global Economics, Regulation and Public Affairs - Jaakko Koskentola © Bank of Finland
The road taken by BBVA
BBVA began its journey of transformation 10 years ago with the proposal to "bring the age of opportunity to everyone". In order to do this, it defined six strategic priorities in 2015. The main purpose of José Manuel González-Páramo's address was to explain three of these.
The first is to offer a new customer experience standard. He mentioned the three pillars of this experience: convenience, simplicity, and the ability to provide advice.
Secondly, BBVA plans to construct an entire ecosystem of its own together with digital partners via acquisitions, investments by its venture capital fund Propel, or creations in its own internal start-up incubator.
Thirdly, José Manuel González-Páramo emphasized cultural change at BBVA, which is now betting on the work of multidisciplinary teams supported by technology platforms. Thanks to them, BBVA has moved toward more agile and flexible structures and has a more level and fluid organization.
Finally, José Manuel González-Páramo reminded the conference of the important role played by regulators and supervisors in accelerating or slowing banking's transition to the digital age. This conference brought together banks, fintech companies, major digital companies, and regulators. José Manuel González-Páramo sat on the panel with Sebastian Siemiatkowski, the CEO of Klarna, a provider of payment and e-commerce solutions.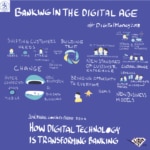 Banco de Finlandia