The objective is not an easy one to achieve: making sure that the products that reach the market are the ones customers need and demand. The task is even more complicated if production must be speeded up, in order to reach the market before the competition. Tech companies were pioneers in facing this challenge; they did so by using agile methods, a way of working that has played a key role in the success of companies like Google and Spotify, and which BBVA has made a fundamental tool in accelerating its digital transformation.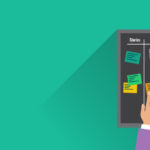 These methodologies are characterized by quick and continuous deliveries to the client, achieved by dividing projects into small stages that must be executed within a few weeks. In this way, the design of a product continually receives the opinions of the client regarding each of its functionalities and the developments that are delivered.
BBVA Spain's mobile banking app, recently selected by Forrester Research as the best in the world, has benefitted enormously from the use of agile methodologies. They have made it possible to improve the app's functionalities – and to develop new services – as customers began to use it. When the head of marketing sits next to the director of software development, or the person that analyzes feedback from users, it becomes possible to detect problems, study them and solve them in a matter of days; using traditional work methods, this process could take months.
One of the keys to agile methodologies is the creation of small, multidisciplinary work groups (scrums), made up of people of different areas and profiles, with full dedication to the project. The first scrums at, BBVA were formed in 2014 and today there are more than 3500 people who work this way.
Some of the pioneers of the agile movement in BBVA promoted the organization of the BBVAgile Conference 2017, an event at which they shared their knowledge and experience with the rest of the company.  The conference, held simultaneously in Spain, Mexico and Colombia, was attended by more than 1200 people. The organization of the event itself was carried out in a collaborative fashion: 20 people shared the tasks and the coordination, using agile techniques.
BBVA CEO Carlos Torres Vila was one of the speakers who wanted to share his experiences with the participants. He stressed the importance of the agile movement for the future of BBVA and said the group's strategy is very clear: to become an advisor to clients, people and companies, in order to help them make their financial decisions. The key to success in the new competitive environment that is emerging in the finance industry is execution. "And in execution, the agile methodology is the one that is proving to be superior, because it helps us to deliver solutions of greater quality, much faster and with a much greater commitment from all of us who work in the bank."
Ricardo Forcano, director of Talent and Culture at BBVA, said the organization of this event, "promoted by people in different areas, with a genuine and personal interest in being able to contribute, "is a reflection of the cultural transformation in which BBVA is immersed, and the importance the agile movement is acquiring in the Group. "We've made a great leap forward," Forcano said, "but now we have a challenge ahead: spreading this model to the entire organization."