With the inaugural Money 20/20 Europe -where some of the people trying to change financial services using technology get together- at an end, we thought we'd share some of our stand-out moments from four days of delegates, speakers, panels, press releases and meetings. From an embarrassment of fintech riches in Copenhagen, we've taken six learnings home with us.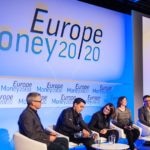 Partnerships are key
Some new high-profile partnerships were unveiled at the show and some older ones got another airing. Fresh off the pages was the announcement that payments giant Klarna and U.S. startup Modo were tying up so Modo can help connect Klarna's payments network to others across the world.
On Wednesday, Atom Bank's app went live and it praised the role of its investors, which include BBVA. The names of BBVA's two board members was also unveiled - Teppo Paavola, BBVA's Chief Development Officer & Head of New Digital Business and former Garanti CEO Ergun Ozen.
European digital financial services startups are in rude health
The annual European Fintech 50 was unveiled at Money 20/20 Europe, and it demonstrated the strength of the region's digital financial challengers. Chosen by an august panel from a list of 1,200, the top 50 included talent from across the region and a range of verticals. The full list can be found here and features innovation from the likes of Property Partner, a U.K. business that allows individuals to invest in the British buy-to-let market, Tradle, who are working on a blockchain application to handle banks' KYC (Know Your Customer) process and Everledger, a winner of last year's BBVA OpenTalent competition (the 2016 edition is open for registration now) who use distributed ledger technology to prove ownership of valuables, particularly diamonds.
There are changes being brought to the world of data science by machine learning
In a panel session at Money 20/20 Europe on the importance of data in credit, risk and fraud, BBVA's Head of Data&Analytics Marco Bressan mused on the difference between data scientists like himself and traditional software development: "One simple way is to look at software developers as manufacturers that put together modules to achieve certain predefined task. While data scientists you could look at as farmers. They use the data as the soil where algorithms and software grows.
Bressan's point - reinforced by many on the panel - was that, by having data scientists teach machines how to learn from data, we are able to improve the customer's experience and support them with their everyday decisions.
Europe's traditional payments providers should watch their back
Alipay and Amazon Payments signalled their intent in Europe with announcements at Money 20/20 Europe. Alipay announced that it would be launching in Europe in the summer, targeting Chinese tourists, while Amazon Payments announced its Partner Program, aimed at merchants selling through 3rd party websites. That two giants are ramping up activity in Europe should make traditional payment providers sit up and take notice.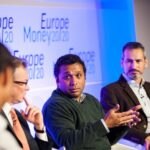 BBVA's Shamir Karkal, the bank's Head of Open APIs
PSD2 and Open APIs will see the creation of  'BigTech'
BBVA's Shamir Karkal, the bank's Head of Open APIs, was part of a 'Planet of the APIs' panel that discussed the impact of opening up banks' core functionality on customers and the banks themselves, and a new fintech buzzword was created - 'BigTech'. This is a term for traditional banks who will use their expertise and scale to capitalise on the opportunities presented by PSD 2 and beyond. PSD2 is an EU directive that puts Open financial APIs into law - it mandates banks to open their customer accounts to 3rd parties (with their permission) to allow startups to innovate on top of them.
The city of Copenhagen and its people are charming
Picturesque, charming and laid-back. Both the people and the city. We'll be back!