APPs
Updated: 02 Nov 2018
Gaming, biometrics and not a piece of paper in sight: Atom, the new face of British banking, is live
BBVA's strategic digital banking partner in the UK, Atom Bank, has opened its' virtual doors to pre-registered customers - just 9 months after receiving its banking licence and 4 months after BBVA announced its 29.5% strategic stake.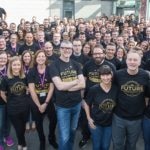 The Durham-based bank, which is based entirely around the smartphone and has no branches, has been given the go-ahead by Britain's Prudential Regulation Authority to launch an app, a fixed-term savings product and small business lending. Initially only available to customers who pre-registered, Atom intends to roll out a full range of banking products by the end of the year, including current accounts, mortgages and credit cards.
Mark Mullen, Atom's CEO said: "This is the start of a remarkable transformation of the banking landscape for everyone. Atom aims to offer a genuine alternative to the traditional banks that dominate the UK banking landscape.  Our approach will be to constantly evolve and extend our offering, with monthly updates to our app and a dedication to providing a better value, greater transparency and a much more innovative banking experience."
Atom's launch features a number of innovations, including:
An App based on Unity gaming software to build a more engaging customer experience
Use of biometric facial recognition to introduce both increased security and greater personalisation into account log-ins
Employing machine-learning software in customer care to get customers to the correct answers to their queries faster
A paperless account set-up experience
According to Mullen, all App development has been with the intention of providing the best customer experience. "The great thing about having no legacy of branches or old online platforms is that Atom has been able to launch a transparent, simple, mobile focused bank which recognises how people live their life now - on their smartphone,multitasking and in a hurry."
Mullen says that help from Atom's partners – which include leading investment fund Woodford Investment Management and Toscafund Asset Management as well as BBVA - has been crucial to their launch. "Atom chose its' investment partners very carefully to ensure we had stakeholders who could bring quality advice and counsel as well as finance."
People interested in signing up for Atom can pre-register at https://www.atombank.co.uk/atom/home/sign-up
Atom is one of a number of strategic digital investments made by BBVA to both support its' own transformation programme and the wider digital financial ecosystem. In 2014, BBVA purchased Simple, a tech company that's changing the way people bank and think about money in the US, and recently announced the acquisition of Holvi, the Helsinki-based online business banking service. BBVA is also an investor in Propel Venture Partners, which through US and European funds looks to invest in the brightest and best digital financial services startups.