BBVA accompanies CIE Automotive in its sustainable strategy
CIE Automotive wanted to benefit from BBVA's experience and advice in its first sustainable financing with a commercial bank. The international industrial group formalized an €80 million bilateral sustainable loan with the bank.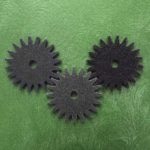 The financial conditions of the sustainable loan are tied to the company's environmental, social and governance (ESG) rating. Vigeo Eiris was the environmental consulting firm in charge of the rating report. The loan will be used to finance part of CIE Automotive's Strategic Investment Plan, which underscores the recent acquisition of the U.S. group Inteva Roof Systems.
The sustainable loan consolidates BBVA's commitment to the fight against climate change, and reaffirms CIE Automotive's forward-looking approach, closely linked to its commitment to respect the environment in all of its activities, and integrated in its management model.
The group dedicated to providing parts to the automotive market places great emphasis on corporate social responsibility, and developing and fostering ethical and responsible behavior across its value chain in order to meet the expectations of the stakeholder groups with which it interacts. Balancing its industrial activity and the environment is a priority for CIE Automotive in order to minimize the environmental impact of its activities, starting with its product design.
BBVA, a leader in sustainable finance
As a sign of its firm commitment to the fight against climate change, BBVA approved its Pledge 2025 in 2018 through which the bank will mobilize €100 billion from now until 2025 in green financing, sustainable infrastructure, social entrepreneurship and financial inclusion. The bank has the capacity, knowledge and experience to provide its clients superior advisory services for sustainable financial solutions and is playing a key role in developing this market.
BBVA has been a pioneer and the dominant player in the sustainable loan business. Today it is one of the most active organizations on the world stage in this field and the leader in Spain.  In 2018, BBVA has led 17 sustainable finance deals in Europe and the Americas for customers in various sectors and has acted as sustainability coordinator or agent in more transactions than any other institution. As of the end of June 2019, it has led 11 more transactions.
About CIE Automotive
CIE Automotive is an industrial group specialized in high value added processes based in Bilbao. It is a global supplier of components and sub-assemblies for the automotive market that offers a business model based on the diversification of technologies, customers and geographies, which gives it a unique positioning and allows the company to supply a wide variety of products to diverse customers located in the main markets worldwide. The group has 113 production plants in 16 countries and employs more than 30,000 people.