BBVA acts as global and sustainability coordinator for INWIT's main RCF
INWIT, the leading Italian telecommunications tower operator, has taken another step forward in its commitment to sustainability by incorporating environmental and social criteria in its core revolving credit facility (RCF). BBVA acted as global and sustainability coordinator for this revolving credit line which involves a total of 10 lenders.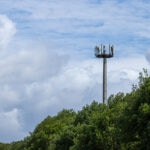 BBVA together with Mediobanca acted as global and sustainability coordinator for this new revolving credit facility, which amends and extends an existing facility signed by INWIT in 2019. The amount of the credit line has been maintained at €500 million and its maturity has been extended by two years to 2027. In addition, the company has made this financing instrument sustainable by incorporating social and environmental criteria.
The margin of the facility is pegged to three KPIs:  a reduction in CO2 emissions, gender equality improvement and a reduction in the digital divide. Annual compliance targets have been set for all three indicators. Depending on whether or not they are met, the financial terms will vary.
The INWIT group has set up numerous initiatives to develop typical processes of a sustainable business such as a the Sustainability Plan which was used to select the KPIs described above and the publication of Integrated Report disclosing the results for the KPIs. After signing its first KPI-linked facility last year, INWIT sought BBVA's advice to tie its main revolving credit facility to ESG criteria, further reinforcing the group's commitment to sustainability.
Matteo Tinelli, Global Banker for INWIT Group at BBVA, said: "Sustainability is a strategicpriority for BBVA. We firmly believe that the banking system plays a key role in channelingfinancial resources toward sustainable businesses and we are strongly committed tosupporting our clients to fight against climate change and promote inclusive growth. We areproud to advise INWIT on this transaction, which further strengthens the company's ongoingcommitment and leadership in this field."
Meanwhile, Giovanni Ferigo, Chief Executive Office of INWIT, said: "For us, pursuing a sustainable business model means continuing a commitment undertaken with an entire community, consistent with our Sustainability Plan, fully integrated in our industrial strategy. The financial world is increasingly attentive to ESG criteria guaranteeing a company's capacity to create long-term value. The agreement signed once again proves the validity of the road we have taken."
BBVA, a leader in sustainable finance
As a demonstration of its responsibility in the fight against climate change, BBVA approved its 2025 Pledge in 2018, pledging to mobilize a total of €100 billion in green finance, sustainable infrastructure, social entrepreneurship and financial inclusion. Three years later, and after having managed to reach the €59 billion figure, the bank has increased its target to €200 billion. By December 2021 it had reached around €86 billion.
In the sustainable loan market, BBVA has been a pioneer and key driver, which has positioned it today as one of the most active banks globally. In 2021 the bank participated in 103 green and sustainable facilities, among which it led a total of 28 syndicated loans as sustainability coordinator and arranged 22 bilateral transactions globally for clients from various sectors. This includes benchmark transactions in Spain, United Kingdom, Germany, United States, Mexico and Latin America.