BBVA channeled 35.4 billion euros in sustainable financing in 2021, up 72%
BBVA has accelerated the volume of financing for sustainability-related projects, both for climate action and those that contribute to inclusive economic growth In 2021, the bank channeled 35.4 billion euros in sustainable finance, up 72% from 2020, and totaling 86 billion since announcing its sustainable finance commitment in 2018 This amount is 43% of the announced total target: 200 billion euros for the 2018-2025 period.
In the last year, BBVA has accelerated its 2025 Commitment to sustainable financing, thanks to the reinforcement of the product offering in the wholesale and retail segments. Whereas in 2020 the increase compared to 2019 was 13%, in 2021 the year-on-year growth was 72%.
"The acceleration in sustainable finance reaffirms our sustainability strategy. Climate change and the process of energy transition and decarbonization is the biggest business opportunity for banking over the next ten years. Such a large-scale transformation requires capital investments amounting to around 5% of annual global GDP. A key part of BBVA's strategy is to help its customers adapt to this new environment, not only by financing, but also by advising them in this transition," said Javier Rodríguez Soler, BBVA's Global Head of Sustainability.
The 86 billion euros of sustainable origination between 2018 and 2021 has been allocated to the two pillars that guide BBVA's commitment and mission in sustainability: 80% to climate action and 20% to inclusive growth.
BBVA incorporates climate change risks and opportunities into its investment and financing decisions. The bank promotes sustainability in each of its operations and products. It currently has a catalog of sustainable alternatives for all its products in Spain and will continue along this path in the rest of the geographical areas in which it operates. BBVA has made the carbon footprint calculator, already developed for companies in 2020, available to private digital customers in Spain.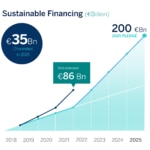 BBVA - alongside South Korea's KB Financial Group - obtained the highest score in its sector in the Dow Jones Sustainability Index (DJSI), making it the most sustainable bank in the world, according to this index. This is the first time that BBVA has reached the highest position in this international benchmark ranking, after holding second place in the last two years.
BBVA's 'Pledge 2025' is based on three lines of action: financing to help curb climate change and promote inclusive growth that leaves no one behind, by channeling 200 billion euros between 2018 and 2025; integrating environmental and social risks associated with the bank's activity to minimize potential direct and indirect negative impacts; and involving all stakeholders to collectively promote the financial sector's contribution to sustainable development.