BBVA assists Atlantic Copper with their first sustainable financing activities
Atlantic Copper, with the support of BBVA, has made its debut in the sustainable financing market by drawing up of two bilateral financing deals worth a combined total of €44 million. This activity confirms both companies' strategic commitment to become aligned with the Sustainable Development Goals (SDGs) and Agenda 2030.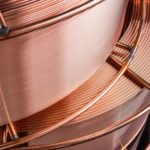 These financing deals replace those drawn up last April between BBVA and Atlantic Copper, modifying the amounts and conditions, as well as making changes so they qualify as sustainable. Specifically, one deal consists of a green loan totaling €19 million, which will be used to finance six green projects; and the other is a €25 million sustainable revolving credit facility.
The rating agency Vigeo Eiris has issued a 'Second Party Opinion' of the loan of 19 million euros, concluding that the operation is aligned with the four 'Green Loan Principles'. Similarly, Vigeo Eiris has evaluated Atlantic Copper's ESG performance that will impact on the price mechanism of the revolving credit facility.
Juan Casals, Director of Sustainable Finance at BBVA, wished to highlight "This transaction is an example of BBVA's ability to structure financial solutions that help our clients accelerate their transformation towards more competitive and sustainable business models.
Javier Targhetta, managing director of Atlantic Copper, pointed out that "for our company, the signing of this agreement represents a very significant step in our sustainability path, of which our active involvement in the energy transition is a very important part, both because it has already given rise to our world leadership in energy efficiency and because of the renewable energy component in our energy consumption mix. At the same time, it is our priority to carry out our productive activities with extreme care for the environment".
BBVA, a leader in sustainable finance
As a sign of its firm commitment to the fight against climate change, BBVA approved its Pledge 2025 in 2018 through which the bank will mobilize €100 billion from now until 2025 in green financing, sustainable infrastructure, social entrepreneurship and financial inclusion. The bank has the capacity, knowledge and experience to provide its clients superior advisory services for sustainable financial solutions and is playing a key role in developing this market.
BBVA has been a pioneer and the dominant player in the sustainable loan business. Today it is one of the most active organizations on the world stage in this field and the leader in Spain.  In 2018, BBVA has led 17 sustainable finance deals in Europe and the Americas for customers in various sectors and has acted as sustainability coordinator or agent in more transactions than any other institution. As of the end of June 2019, it has led 11 more transactions.
About Atlantic Copper
Atlantic Copper is a Spanish company, whose sole shareholder is the North American company Freeport-McMoRan, one of the principle natural resource groups in the United States. Freeport-McMoRan is traded on the New York Stock Exchange (NYSE: FCX) and is the world's second largest producer of copper, the largest molybdenum producer, and an important producer of gold.
The Spanish company is headquartered in the southwestern Spanish city of Huelva, and as part of its mission it pursues excellence in every aspect of its business: safety, the environment, its talent pool, and efficiency, all based on the principles of sustainability and continuous innovation. The company credits its human capital for contributing to its position of global leadership in safety, operational and energy efficiency, and environmental protection.
In 1994, it launched an expansion and environmental improvement project in its main facility. Since then, Atlantic Copper has invested close to €235 million in innovative, energy efficient, and environmentally friendly projects.  Thanks to these investments, almost 15 percent of the energy consumed at the company's plant comes from heat recovery systems and cogeneration from the copper smelting processes, representing a reduction of 25 percent of the unit cost of energy in the past decade and 40 percent since the turn of the century.