BBVA extends its green loan portfolio to help SMEs and the self-employed purchase sustainable vehicles
BBVA has extended its line of green loans to cover sustainable vehicle purchases for all SMEs and freelancers who want to buy electric or hybrid cars for business purposes. This new product rounds out one of the most extensive lines of green loans in the Spanish market.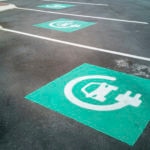 BBVA has launched a new loan, the 'Sustainable Vehicle Loan', which targets SMEs and the self-employed in order to finance the purchase of electric and hybrid cars. These types of vehicles have become the most commonly selected way for Spaniards to fight climate change and contribute to the protection of the environment.
The loan is aimed at small and medium-sized enterprises and freelance workers who, for business purposes, want to buy electric or hybrid cars, or even buses, commercial vans, and motorcycles that do not exceed maximum emissions of 75 gCO2/km. Clients can apply for the product up to a maximum value of €300,000, which can be repaid over 96 months (8 years) at a fixed interest rate of 3.75 percent. There are no up-front commissions, nor are clients obligated to contract additional products.
"It's important that this kind of green loan has attractive, easy conditions for the end client. We cannot overlook the magnitude of the economic impact of SMEs and freelancers in Spain's society; consequently, having this segment's buy-in for sustainable vehicles is fundamental in the fight against climate change," points out Albert Cano, head of the SME segment at BBVA.
With this new offering, which is also available as a lease, BBVA is making strides in its firm commitment to ensure that all its products have a sustainable alternative, for all its customers: large companies and institutions, medium and small sized businesses, as well as consumer customers.
A sector in full swing
According to the latest report by the international consulting firm, McKinsey, "Expanding electric-vehicle adoption despite early growing pains", the electric vehicle industry has enjoyed continued positive performance, driven by, among other things, the car manufacturers themselves who continue to launch increasingly sophisticated electric models.
In 2018, global sales of electric vehicles grew by more than two million units, representing a year-on-year increase of 63 percent, a slightly higher rate than previous years.
Per country, China leads the world-ranking with a registered increase of 85 percent compared to the year before, and this despite government cuts of aid to the industry under Xi Jinping. In Europe, the electric vehicle market has also increased slightly, with 90,000 more units sold in 2018 than in 2017. The largest European countries, like France, Germany and the United Kingdom still have a ways to go, given that they still only account for a very low volume at around 2 percent. Norway leads the European market.
Manufacturers, driven by a greater innovation and increased investment, are playing a critical role in the bedding-in of the industry. In fact, McKinsey forecasts that the supply of these kinds of vehicles will expand dramatically in coming years, with lower prices and making inroads into larger markets like Brazil and India.
BBVA's commitment to the fight against climate change
To encourage purchases of electric and hybrid vehicles, last June BBVA launched its Eco-Car Loan, for consumer customers. By extending this product to SMEs and self-employed workers, BBVA aims to secure its position as a world leader in sustainable banking and live up to its reputation as a responsible bank with tried-and-true values.
In February 2018, BBVA announced its Pledge 2025, the bank's climate change and sustainable development strategy aimed at advancing the fulfillment of the United Nations' Sustainable Development Goals (SDGs) which are aligned with the Paris Agreement.
The bank's pledge is an eight-year commitment (2018-2025) based on three primary pillars: financing, management, and engagement. BBVA has committed to allocating €100 billion euros in green financing, sustainable social infrastructure, agribusiness, social enterprise, and financial inclusion. Specifically, in the first 18 months of the pledge, the bank secured close to €22 billion in sustainable finance as part of its contribution against global climate change.
Furthermore, BBVA has committed to engaging all its stakeholders in the initiative, thereby encouraging the financial sector as a whole to do its part for sustainable development.