BBVA Group issued 11.5 million recycled plastic debit and credit cards in 2021
BBVA distributed a total of 11.5 million new debit and credit cards made from recycled materials among its clients in 2021, as part of a progressive process that began in 2020. The bank is already offering recycled cards in most of the countries across its footprint.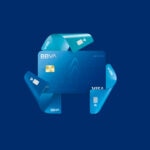 With this recycled plastic initiative, BBVA aims to promote the circular economy and its 4R-principle (reducing, reusing, recycling and recovering), while preventing a total of 36.2 tons of new plastic from entering the market. In line with its commitment to foster the responsible consumption of recycled materials and the recycling thereof, BBVA will avoid, in the manufacturing process alone, a total of 80.5 million tones in carbon emissions per year.
BBVA was the first bank in Europe to launch a recycled plastic card made from PVC (polyvinyl chloride) sourced from recycled waste materials from the packaging, printing, automotive or window making industries. And its commitment is to keep improving this product to make it 100 percent recycled. The bank currently has 90 million credit and debit cards in circulation and is taking steps to start issuing only recycled plastic cards across its entire footprint by 2023.
The emergence of recycled cards
BBVA's recycled plastic credit and debit cards are already available in Spain, Portugal, Mexico, Argentina, Colombia, Peru and Uruguay, albeit to varying degrees of implementation depending on the country and the segment. With 6 million units, Mexico has issued more recycled cards than any other BBVA Group franchise. It is followed by Argentina, with 2.2. million, and Spain, with 1.7 million. Old credit cards will be progressively replaced with new, recycled plastic cards as they reach their expiration date.
Recycling old cards
In the case of Spain, of the 1.7 million cards issued made from recycled plastic, 1.3 million were Aqua cards, a pioneering family of cards with no numbers or expiration date on them, and working with a dynamic card verification value (CVV). These features provide an increased level of protection and security for both the digital and physical versions of the card. BBVA also started offering its clients in Spain the possibility of having their old cards recycled by disposing of them at any of its branches. The system has already recycled a total of 2,400 kilos (5.290 pounds) of cards.
Recycled PVC and card manufacturing process
After studying different materials, BBVA opted to make its new cards from recycled PVC, the most sustainable one. The bank is not using new resources to produce this material but rather promotes the circular economy by using recycled plastic (new use of an existing waste material) and thus avoids creating new waste.
Recycled cards comprise several layers of different materials, including 86 percent of PVC (polyvinyl chloride) from recycled plastics. However, BBVA's commitment is to ensure that 100% of all materials used in its cards come from recycled sources, including the embedded chipsets.
Although some of the new products still contain 86 percent of recycled materials, the bank is migrating card production to achieve the desired 100 percent goal, in line with the development and capacity of the suppliers the BBVA works with.
Technology will play a key role in the development of new plastic materials or recycling techniques. Just three years ago suppliers weren't able to use recycled plastic. Today, as economies of scale start to take hold, these technologies are becoming increasingly competitive.