All BBVA cards will be made of recycled materials by 2023
BBVA will be offering recycled cards in all countries where it operates prior to the end of 2021. By 2023, the bank will no longer issue other types of cards, in line with its commitment to the responsible consumption of recycled materials, and recycling. In 2021, the financial institution will provide up to 7.3 million of these cards to its customers as part of a progressive process by segments and countries.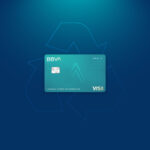 BBVA was the first bank in Europe to launch a card made of recycled polyvinyl chloride (PVC)  plastic, which comes from waste products from various industries like packaging, printing, the automotive industry and windows. It is committed to continue improving this product until 100 percent of the card is made of recycled materials. The bank currently has 90 million cards in circulation and its goal is for all cards it issues to be made of recycled materials by 2023.
At the same time, with the issuing of 7.3 million recycled cards in 2021, BBVA hopes to boost the circular economy —based on the four Rs: reduce, reuse, recycle and recover— to avoid issuing 23.2 tons of new plastic on the market. In the manufacturing process alone, this will reduce CO2 emissions by 51.1 tons per year.
Recycled PVC and the card manufacturing process
After studying various materials, BBVA has opted to manufacture its cards with recycled PVC, which is the most sustainable option. It lasts as long as normal PVC. For this reason, the use of other alternative environmentally friendly materials was ruled out, as they do not last as long. Apart from requiring additional effort in the recycling process, they would also mean increasing the number of cards issued.
Similarly, recycled PVC can be used together with standard PVC. It is important to point out that the bank is not using new resources to produce this material. Instead, it is fomenting the recycling of plastic (new use for waste that already exists), avoiding the generation of new waste.
Recycled cards are manufactured in several layers of different materials, with 86 percent polyvinyl chloride (PVC) made from other plastics. This percentage is currently the highest level of recycling in the global financial sector, but the commitment is to reach 100 percent recycled materials as of May 2021. In addition, as part of the framework of BBVA's relations with its suppliers, the bank will open an internal line of R+D to develop sustainable solutions with them.
Technology will be fundamental in the development of new plastic materials or recycling techniques. Just two years ago, card providers were not able to use recycled plastic. Now, with economies of scale, these kinds of technologies will become more and more competitive.
Progressive introduction of recycled cards throughout 2021
There will be a transition period in order to manufacture cards with the desired level of 100 percent from recycled materials. The first cards will be issued with 86 percent recycled materials. The reason for this is that the new material must be sized, and this involves a process that will conclude at the end of 2021.
Spain, Portugal, Mexico, Peru, the U.S. and Argentina already have recycled cards in varying degrees. Their introduction in Colombia is expected after the summer, and the process will be gradually completed in the rest of the countries. As the cards are renewed, they will be replaced with these recycled cards.
It is important to note that BBVA launched a new family of pioneering cards in Spain in October 2020, Aqua. Made of recycled plastic, they do not have the card number or expiration date printed on the card, and the card verification value (CVV) is dynamic. This reinforces the security of both the digital and physical versions of the cards.
Recycling of old cards
On the other hand, BBVA now offers its customers in Spain the possibility of recycling their old cards, by turning in their old cards in their branches. In fact, the bank recently announced  the recycling of 90,000 customer credit and debit cards in just three months. The initiative has made it possible to reuse 450 kilograms of plastic waste, which means reusing 90 percent of the raw materials from the cards to produce new products. On average, BBVA issues approximately 950,000 cards per quarter in Spain —3.8 million cards per year— either due to expiration, theft, loss or new issues.