BBVA launches Bizum fundraising campaign to support the fight against breast cancer in Spain
The World Health Organization promotes Breast Cancer Day every October 19 to  raise awareness about the commitment of society as a whole to the fight against the most common form of cancer in women. For yet another year, BBVA is organizing a fundraising campaign via Bizum, the leading instant payments solution in Spain, to encourage customer donations in support of the Spanish Association Against Cancer. As an additional gesture of solidarity, this morning, the bank lit up its headquarter buildings in Madrid, La Vela, in pink.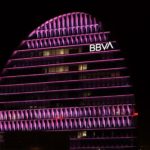 Breast cancer remains the second most frequent form of cancer in Spain, with 33.315 new cases in 2019. Every 15 seconds, a woman is diagnosed with breast cancer somewhere in the world. In 2018 alone, 2,088,849 new cases were diagnosed worldwide.
The Spanish Association Against Cancer (AECC) seeks to raise public awareness about the importance of research and the early detection of this disease, . However, as the AECC points out, the health crisis caused by COVID-19 has stolen the spotlight from this disease. Cancer patients are one of the most at-risk population groups for Covid and the 2020 pandemic has compounded their already vulnerable situation.
For this reason, BBVA is reaffirming its commitment to this cause, launching a campaign to raise funds to support the efforts of the Spanish Association Against Cancer. The campaign will run from today through October 31. Donations can be made directly from BBVA's mobile app or the banks online banking site, using the Bizum interface, and then selecting 'Contribute to a charitable cause', and typing in code 33488 as well as the amount they wish to donate.
In 2019, BBVA clients donated a total of €50,623 to the AECC, an organization that offers comprehensive assistance to breast cancer patients, including psychological, rehabilitation and physiotherapy services.
Key in the fight against breast cancer: early detection
Early detection, together with research, is key to ensuring that about 90 percent of the women diagnosed with breast cancer survive. This means that more than nine out of ten people with breast cancer are still alive five years after being diagnosed.
According to AECC, to ensure early detection, women should start participating in screening programs and undergoing regular checkups is 45-50 years.  The AECC also recommends women under 45 to examine their body and seek medical advice if they detect anything changes in either one of their breasts.
Specialists also recommend all women aged 20 or older to perform monthly breast self-exams. After 25, the recommendation is to have their breast examined on a regular basis by a specialist; after 40, it is advisable to have a mammogram every one or two years. Detecting a significant breast change is reason enough to promptly schedule a visit with a specialist, the only person trained to conduct the tests required to diagnose breast cancer.
The other 'toxicity' of breast cancer
The AECC has published a report entitled 'Financial toxicity of breast cancer' that shows the set of financial and occupational hurdles faced by cancer patients and their families. Including direct and hidden expenses, as well as loss of income, the average cost of the fight against breast cancer is €42,000.
Also, in Spain, the disease causes 34 percent of the patients to lose or quit their job, 42 percent of patients to lose virtually all sources of income and 21 percent of households to undergo a delicate financial position.