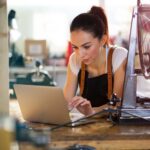 53.2% of the BBVA suppliers who will receive this training are women. Spain and Mexico are the countries with the most suppliers enrolled in this program, with a total of ten countries. The training program, which is free of charge, began on February 9 and will last five months.
The training is divided into on-demand 'online' sessions for each participant to complete according to their availability (the platform is open 24/7), and live sessions via Zoom.
BBVA also accompanies the sessions with different downloadable support materials for SMEs (templates, guides, compilation of best practices, etc.). The objectives of this Global Compact training, composed of four modules, are:
To train the supply chains of large Spanish companies, partners of the initiative in Spain, in the field of sustainability, taking the Ten Principles of the UN Global Compact and the SDGs as a reference.
To offer knowledge and resources to SMEs in Spain and other parts of the world on corporate sustainability based on the Ten Principles of the UN Global Compact and the SDGs.
To help SME suppliers of large Global Compact member companies to comply with the national, European, and international regulatory framework on sustainability.
The training program: Sustainable Suppliers is part of the UN Global Compact Spain, UN Global Compact, ICEX and Fundación ICO. Seventeen large Spanish companies that are partners of the UN Global Compact Spain participate as promoters and more than 2,000 SMEs from thirty-eight countries have joined.
It is an international initiative that has been launched by the leading driving companies to suppliers all over the world. All content is available in English, Spanish and Portuguese.
Among the requirements for SMEs wishing to participate is that they must have between 10 and 250 employees.
With this external program, BBVA is extending sustainability training to suppliers. Cross-cutting training, which its employees have been receiving since 2020 and which includes specific content on global challenges such as the fight against climate change and inequality, as well as the direct and indirect impacts derived from the environmental risks of BBVA's business. This program has enabled the staff to acquire a strategic vision of the relationship between sustainable development and the financial industry.