80 percent of BBVA employees have received sustainability training
80 percent of BBVA personnel (87,000 employees) in all countries where the bank has a presence have received sustainability training, specifically on climate action and inclusive growth - two pillars of the bank's sustainability strategy. They have spent an average of 3.5 hours per person in the training.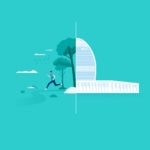 BBVA considers sustainability a strategic capacity that is needed to address the challenges facing society. For this reason, the bank is providing basic training on this subject for the entire workforce and has launched different training itineraries and specific certifications to expand on the knowledge for positions that require it.
For BBVA's Global Head of Sustainability, Javier Rodríguez Soler, preparation is essential in this field, but it's important to continue working and investing in this type of knowledge."This is a constant race, we still need to innovate and continue learning. The technological changes and innovations taking place in the market are constant, and therefore, we have to prepare our employees for this," he said.
Javier Rodríguez Soler: "Preparation is essential in this field"
In addition, in 2021, the Group created the new global sustainability area as a new business area that reports directly to the chair and CEO of the bank. "With this organization, we try to ensure that sustainability is in all corners and in the bank's DNA," Rodríguez Soler stressed.
"BBVA has teams in all areas of the bank and in all business areas being formed and advancing in sustainability," he added. "To name just a few examples, for more and more people working in Risks, Business or Compliance, sustainability poses an important part of what they do."
Last year, BBVA implemented its own 'reskilling plan' to identify the training needs for the coming years. Supported by BBVA experts and by renowned, prestigious educational institutions, such as Oxford, Cambridge or Yale, the bank has developed different education plans adapted to these needs.
Specifically, the sustainability itinerary consists of three levels of knowledge (basic, advanced and expert) with a focus on two pillars of the new sustainability strategy: climate action and inclusive growth. This ecosystem of learning, within the framework of the Group's training model, BBVA Campus, is structured according to the needs of the employee, area, base level and objective.
Sustainability is one of BBVA's strategic priorities, perceived as the greatest challenge facing humanity, and at the same time, the biggest business opportunity. Given the new opportunities it offers, the Global Head of the Sustainability Area wants to "encourage employees to get ready to take advantage of them in order to continue advising our clients in this journey."