BBVA reduces CO₂ emissions and energy consumption of its Data Center processors by 50% with IBM technology
BBVA has renewed the processors of its Data Processing Centers (DPC) in Spain and Mexico, with the help of IBM, to achieve significant energy and environmental improvements. In the case of its DPC in Tres Cantos (Madrid), a recent study carried out by BBVA has concluded that the installation of the new IBM z15 central processing equipment is already allowing the use of 50% less energy than with the previous data processors and, in a period of five years, the emission of carbon gases will have been reduced by half, a very significant figure when it comes to moving towards a more sustainable model.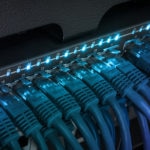 Technology is a great starting point for the ecological transition within the operations of companies, and specifically of financial institutions. BBVA's green commitment is based on its capacity to mobilize and channel resources towards sustainable activities, as well as to encourage companies and other economic agents to make investment and production decisions based on environmental, social and governance sustainability criteria. These are lines that the bank also applies in its own facilities to improve its energy capacity and reduce its carbon footprint.
Not surprisingly, the IBM Institute for Business Value (IBV) points out that "48% of all small investors surveyed already take environmental sustainability into account in their investment portfolios and another fifth (21%) consider that they are likely to do so in the future. Fifty-nine percent of investors surveyed expect to buy or sell holdings in the next year based on environmental sustainability factors."
"Technology and sustainability are two basic transformational pillars for BBVA across our business, something we also apply to the improvements we develop in our own workplaces," said Desirée Granda, Global Head of Premises & Services at BBVA. "We have the most advanced data processing centers in the world, which are already very efficient. But we are not satisfied; we are continually looking for new initiatives that allow us to reduce their energy consumption and associated carbon footprint," she added.
"Sustainability is one of IBM's guiding principles. The energy savings and emissions reductions from the implementation of IBM z15 is just one small example of our work. In this sense, the fact that IBM and BBVA are aligned in terms of business priorities means that together we can go further, because at IBM we have sustainability so deeply rooted in everything we do as BBVA, from manufacturing to production of our products and services," explained Mercedes Antúnez, Technology Manager Director for BBVA at IBM.
A good example is the case of BBVA's state-of-the-art DPCs in Tres Cantos (Madrid) and Lago Esmeralda (Mexico). Both facilities already have the prestigious TIER IV certifications —a guarantee seal of design, construction and operational sustainability—, which positions them as the most avant-garde in the market. By upgrading their current IBM z13s to IBM z15, BBVA can continue to advance their green initiatives and goals. The installation of this new model means an improvement in flexibility and speed of response with a reduction in power consumption.
The new processors in Madrid's DPC are already in operation. The use of this new upgraded component is resulting in the use of half the energy consumed, compared to its z13 predecessor. According to IBM IT Economics evaluations based on customer data have calculated that moving from a z13 to a z15 model results in a 51% decrease in energy costs over five year. In addition, the new z15 offers the intelligent power distribution unit (iPDU) as an option to reduce power consumption in radiator-cooled systems.
The optimization of this microprocessor also means a reduction in carbon emissions of around 100 tons per year, the equivalent of 596 mature trees. This means a reduction of 497 tons of CO₂ in five years.
The change of technological equipment has also already been carried out in the DPC in Mexico, which will come into operation during the first half of 2022. BBVA's strategic objective is to extend this technological change to the rest of its data centers in order to continue moving towards a more efficient and sustainable model.