BBVA is one of the signatories of the Principles for Responsible Banking, promoted by the United Nations Environment Programme Finance Initiative (UNEP FI). These Principles embody the commitment of 130 banking institutions and the United Nations to take on the climate emergency and sustainability challenges facing society today.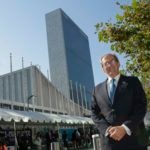 "The Principles for Responsible Banking are our collective response to align the banking business with long-term goals that integrate social and environmental challenges. These principles will definitely help us to become better banks and reinforce the sustainability of the whole financial system. The future of Finance is financing the Future," said BBVA Group Executive Chairman Carlos Torres Vila.
The signing of the declaration took place during today's General Assembly meeting, in an event that gathered 130 representatives from financial institutions across the globe at the UN headquarters in New York. UN Secretary General Antonio Guterres spoke at the event. The signatory companies account for 47 trillion in assets.
"The UN Principles for Responsible Banking are a guide for the global banking industry to respond to, drive and benefit from a sustainable development economy. The Principles create the accountability that can realize responsibility, and the ambition that can drive action",  said UN Secretary General Antonio Guterres.
José Manuel González-Páramo, Executive Director and Global Head of Economics and Institutional Relations at BBVA, dubbed the signing a "milestone, not only for the financial industry." "At BBVA we advocate for a sustainable and responsible financing, guided by our purpose: to bring the age of opportunity to everyone," he said.
BBVA is one of the 30 founders of the Principles for Responsible Banking unveiled in Paris on November 26, 2018. Following a public consultation period that saw over 500 stakeholders contribute their feedback and which drew interest from a gradually increasing number of banking institutions, the Principles for Responsible Banking aim to align the financial sector with the UN Sustainable Development Goals and the Paris Climate Agreements.
Declaration of the Principles for Responsible Banking
The letter signed by the Chairs or CEOs of the institutions recognizes that "banks play a key role in society," and that, as financial intermediaries, their purpose is to "help develop sustainable economies and to empower people to build better futures." "We therefore," continues the declaration, "commit to the ambitions set out in the following Principles":
1.- Alignment. We will align our business strategy to be consistent with and contribute to individuals' needs and society's goals, as expressed in the Sustainable Development Goals, the Paris Climate Agreement and relevant national and regional frameworks.
2.- Impact & Target Setting. We will continuously increase our positive impacts while reducing the negative impacts on, and managing the risks to, people and environment resulting from our activities, products and services. To this end, we will set and publish targets where we can have the most significant impacts.
3.- Clients. We will work responsibly with our clients and our customers to encourage sustainable practices and enable economic activities that create shared prosperity for current and future generations.
4.- Stakeholders. We will proactively and responsibly consult, engage and partner with relevant stakeholders to achieve society's goals.
5.- Governance & Culture. We will implement our commitment to these Principles through effective governance and a culture of responsible banking.
6.- Transparency & Accountability. We will periodically review our individual and collective implementation of these Principles and be transparent about and accountable for our positive and negative impacts and our contribution to society's goals.
The private banking sector could benefit from its investments to contribute to the transition towards a low-carbon economy. According to UN data, It is estimated that addressing the SDGs could unlock USD 12 trillion in business savings and revenue annually and create 380 million more jobs by 2030.
For more information on these Principles for Responsible Banking, please visit: www.unepfi.org/banking/bankingprinciples.