Carlos Torres Vila: "Decarbonization will occur when investments in emerging green technologies prove profitable"
BBVA Chair Carlos Torres Vila stated that "the investment necessary for the economy to function without emissions must make economic sense, since a large part of it will come from the private sector." At a round table hosted by UNEP FI in Madrid, he stressed that "decarbonization will occur when investments in emerging green technologies prove profitable."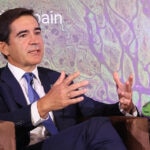 For the BBVA Chair, sustainability poses three major challenges: "Fighting climate change, preserving natural capital and driving inclusive growth." And all three challenges call for "massive investments" of around 8 percent of global GDP every year until 2050 for climate change alone. In addition, investment of close to $3 trillion annually over the next decade will be needed to preserve natural capital, while global consumption should increase by around $37 trillion over the next decade to drive inclusive growth (as estimated by the McKinsey consulting group).
For the world to function with net zero emissions, Carlos Torres Vila pointed out "the need to channel investment not only to green activities and projects, but also to fields where it is hardest to reduce the environmental impact." In his view, "if we want to succeed in our climate goals we have to help the whole economy in its transition."
"This far-reaching and necessary transformation implies a radical shift in sectors, business models and activities, and will require massive government and private sector investment. But that investment will only become a reality if it makes economic sense," he stated. In his view, banks are "a major intermediary," but the key lies with all actors in society, including investors, companies and the general public.
Carlos Torres Vila advocated for the critical need to raise the investment commitment of developed countries to emerging and developing nations so as to decarbonize the economy. Currently, this commitment stands at $100 billion a year. That figure will need to be multiplied many times over in order to tackle climate change, he said.
Regarding the energy transition, the BBVA Chair called for more national platforms in all regions to support clean energy. Carlos Torres Vila pointed to the need for increased combined finance via the use of public funds for development and private capital, thereby enhancing the role of multilateral institutions and development banks, since they have the instruments to raise these funds and channel international financing. He also called for the creation of consistent frameworks (standards, labels, taxonomies, etc.) to help speed up the flow of private sector finance for sustainable development.
Regional Roundtable on Sustainable Finance for Europe
The United Nations Environment Programme Finance Initiative (UNEP FI) is hosting its Regional Roundtable on Sustainable Finance for Europe on September 12 and 13, 2023 in Madrid, bringing together more than 500 finance executives. The conference aims to help shape the role of banking, insurance and investment in proactively accelerating a greener economy while transitioning to a low-carbon, inclusive and sustainable future in Europe.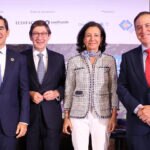 From left to right: Carlos Torres Vila, Chair of BBVA; José Ignacio Goirigolzarri, Chair of CaixaBank; Ana Botín, Chair of Banco Santander; and Antonio Huertas, Chair of MAPFRE.
BBVA is a member of UNEP FI, and co-chairs its global steering committee since 2019. Carlos Torres Vila is a member of the organization's Leadership Council. BBVA is the only Spanish bank represented on the Council, which is attended by Chairs and CEOs of financial institutions from all over the world.
Teresa Ribera, Third Vice-President and Minister for Ecological Transition and the Demographic Challenge of the Spanish Government in office, inaugurated the event, which was also attended by Ana Botín, Chair of Banco Santander, Antonio Huertas Mejías, Chair of insurance concern MAPFRE, and José Ignacio Goirigolzarri, Chair of CaixaBank.