The appropriate design of a product can help reduce its environmental impact and make it last longer. More and more companies are turning to materials that are more durable and easier to recycle. One of the key aspects of product creation is predicting the possible repairs owner may have to make.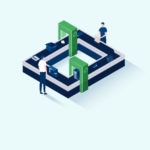 Up to 80 percent of a product's environmental impact is determined during its design, according to European Union data. Manufacturing more durable products that can be repaired and easily recycled eis one of the biggest challenges of the 21st Century. This is the only way it will be possible to mitigate their negative impact on the environment and stop the massive generation of waste. The European Commission recently presented a new Circular Economy Action Plan which among other measures, aims to address this problem by fomenting ecodesign.
"Ecodesign is a design methodology that integrates environmental aspects into the process in order to reduce the environmental impact of the product or service that is created," explains Giuseppe Marsala. He is the Project Coordinator of GreenThem, a company that has been offering sustainable and environmentally friendly communication materials and corporate gifts for the past 10 years. He is convinced that: "We should apply ecodesign to all human activity." Although it will have the biggest impact in the "industrial production, manufacturing, food and services sectors".
An appropriate design can help to reduce the environmental impact in all of a product's stages of life: from the extraction of the raw materials, the transportation, the manufacturing, the distribution and use until the end of its utility when it is discarded. There are different ecodesign strategies, say sources from the DEGREN (Design & Green Engineering), project, which aims to promote ecodesign. Some consist of using natural raw materials instead of materials made from oil. Others are geared toward a design that focuses on recycling, or using less material without decreasing functionality.
These and other strategies, Degren says, will make it possible to use less plastic as a raw material for an endless number of products, and lead to a better reputation. "A society that is increasingly environmentally conscious will result in more sustainable products being better valued and consumed more. There are studies that conclude that consumers accept a higher price for products that are more sustainable with a lower environmental impact," they add.
It is not the first time that European authorities attempt to promote a design that respects the environment. "For the first time, new requirements were adopted last year for certain appliances like washing machines, refrigerators, lighting fixtures, or dishwashers," recalls Jean Pierre Schweitzer, the Head of the Circular Economy and Product Policy at the European Environmental Bureau (EEB). He is referring to the Ecodesign Directive, a European law that focuses on electric products and includes facilitating product repair as one of its objectives.
For example, it aims to guarantee the availability of critical replacement parts, make products easy to disassemble and offer users necessary information and repair manuals. The new Circular Economy Action Plan establishes similar requirements for other groups of products, especially devices from the electronics and ICT sector, such as smartphones, tablets and laptops, Schweitzer explains.
"Eight out of every 10 Europeans agree that manufacturers should be required to facilitate the repair of digital devices," says Schweitzer. The plan stipulates that the European Union should recycle at least 40 percent of electronic waste. There are even functional products that are discarded because they cannot be repaired. In order for these devices to last longer, there are important factors such as "the availability of software updates and necessary diagnostic tools for their repair."
"It's inevitable that the number of companies that join the circular economy and ecodesign model will increase. The first to do so will have a competitive advantage"
Over time, the expert maintains that similar requirements will be developed for other important industries such as textiles, furniture, batteries and construction products. Ecodesign is destined to become a trend in all of them. Marsala says that apart from the environmental benefit, it also entails a reduction in costs and employed resources. "Costs associated with the management of environment and health impacts generated by production and use are reduced as a secondary effect. At the same time, it makes it possible to design and put on the market higher quality products with better characteristics that will have a more satisfactory acceptance and demand among users," he adds.
Marsala stresses that these dynamics "are now consolidating in massive production sectors." One examples is packaged beverages, where for some time now "brands like Coca Cola, Pepsi and Heineken have been using ecodesign to reduce the use of material in the packaging for water, beer, juice and sugary drinks." There are also companies like Zicla, qthat are working on products for urban furnishings and public areas made solely of recycled materials. In the financial sector, BBVA is the first bank in Spain to distribute cards made of recycled plastic. The new cards, currently in the initial stages of production, will begin circulating in May. BBVA will progressively expand this initiative to all countries where it has a presence with the commitment that the cards it offers customers will be made of environmentally friendly materials by the end of 2021.
In the textile field, Hilaturas Ferre also applies ecodesign criteria. And there is even an infinite number of small designers that are promoting sustainable fashion under the umbrella of the Sustainable Fashion Association of Spain (AMSE).
The Spanish company NaturBrush, also stands out. Its first contribution was turning a manual plastic toothbrush into a biodegradable bamboo toothbrush. "A small individual act but with huge dimensions on a global scale. Just think about the vast amount of plastic toothbrushes that are used and eventually pollute wherever they end up -- the ocean, mountains or rivers," explain sources from the company.
They stress that if they were counted, the figures would be shocking: "Imagine a family of three. We would already be talking about 12 plastic toothbrushes per year. If we transfer this to an entire building, a street, a city, an whole country… And all of this year after year. I'll let you think about that." In addition to toothbrushes, they have expanded their catalog and have turned plastic oral hygiene products into biodegradable products. For example, dental floss, Q-tips, and solid toothpaste.
All of these companies aim to innovate and be competitive in their sector, according to Marsala. For him, it's about a change in the design and production model that takes time and investment, but brings undeniable benefits. "It's inevitable that the number of companies that join the circular economy and ecodesign model will increase because it's the current trend and the road map laid out by the European Union. The first to do so will have a competitive advantage," he maintains.