In an imperfect world, new technologies offer an opportunity to make certain improvements that benefit society. Blockchain, the driver of the new tech revolution, promises to help in solving key data traceability and transparency issues.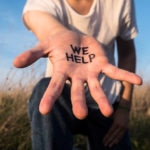 A lot is written about blockchain every day, an exponential technology that acts as a digital ledger, ensuring full traceability and immutability of all entries. The broad range of applications it enables has led some to assess its potential for social purposes… some are already capitalizing on this new promise.
Technology alone is not enough and depends on how humans want to use it. In the case of blockchain, several projects across the globe are trying to find for new applications to address shortcomings in areas such as sustainable development, food traceability or the protection of the most vulnerable children, to name a few.
No more false labels
Scams in the food industry have become a source of growing concerns for both governments and consumers. Products that promised to be something they weren't, sold past their sell-by date, food labels that ignore ingredients with questionable benefits for the consumer, etc. Sawtooth Lake, is a Hyperledger-powered initiative that aims to tackle these issues. It is built on Hyperledger's platform and backed by IBM and Ernst&Young. Hyperledger, is an open-source blockchain consortium, which BBVA joined in 2017.
Thanks to Hyperledger's platform, this initiative is contributing in the fight against misleading food labelling practices, to ensure that end consumers can rest assured of product's origin and how long it has taken it to get to his/her hands.
Risk-free Donations
Helperbit wants to offer a revolutionary channel to funnel charitable donations. As a result to a slew of controversial cases, people are becoming increasingly reluctant to trust organizations to manage their donations, fearing that only a small percentage of the money they contribute, if anything at all, will get where it is needed.
This project uses blockchain to create a humanitarian relief platform that allows donors not only to choose the cause and amount they wish to donate, but also to track their money at all times  and decide on the currency they wish to use to donate, including bitcoin.
Protection for the 'street children'
'Protection People app' or 'Child PPa' is an initiative promoted by Spanish NGO itwillbe.org, and one of the entrants in this year's edition of the BBVA Momentum competition. Through biometrics, the app aims to improve the living condition of the up to 150 million street children in the world today.
By identifying each one of them using biometric technologies, itwillbe.org hopes to create a database with all the minors enduring these situations.  Having access to all this information will help boost the effectiveness of the relief programs and activities aimed at rehabilitating these children, both at physical (vaccination, treatments, nutrition programs…) and emotional and psychiatric (depression or severe trauma) levels.
'Blockchain' for sustainable development
The purpose of 'Blockchain For Social Impact Coalition' (BSIC) is to develop real blockchain-based solutions that take on environmental and social challenges. BSIC was conceived by multinational Consensys as a global gathering of technologists and entrepreneurs using the Ethereum platform to develop the infrastructure, apps and practices for a decentralized world. BSIC also advises the European Commission on the deployment of projects based on the blockchain.
BSIC's projects are closely linked to the UN Sustainable Development Goals, and focus on four core areas: Industry and vulnerable peoples, energy and environment, supply chain and financial inclusion.