Garanti BBVA and TURMEPA recover and recycle 30 tons of waste from the Sea of Marmara
Türkiye's Garanti BBVA is partnering with the DenizTemiz Association / TURMEPA in the joint Blue Breath project, in a bid to mitigate marine pollution. The initiative has recovered 30 tons of waste over a six-month period from the Sea of Marmara.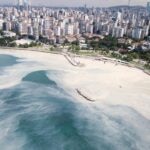 The project also raises awareness through online training on climate change and its impact on the seas, "sea snot," sources of pollution, the zero waste movement, the UN Sustainable Development Goals and carbon emissions.
The 2022 first quarter report published by the DenizTemiz Association / TURMEPA discloses that from September 21, 2021 to March 2022 sea sweepers recovered and recycled 28,290 kilograms of waste, an amount equal to the waste produced daily by about 25,000 people.
One third of the 30 tons of waste collected by sea sweepers consisted of plastic—mostly bags and PET bottles—while 2.7 tons consisted of textiles, 2.5 tons of metal, 1.8 tons of discarded fishing gear and 4.5 tons of marine mucilage.
As another part of Blue Breath, 20,371 students and teachers through 107 institutions engaged in online training in Kocaeli, Istanbul and Bursa.
Awareness increases with training
To measure and improve training efficiency, under the Blue Breath program students take pre- and post-training tests, which have shown major steps forward in their understanding of the subject matter.