Garanti BBVA customers can now check their carbon footprint
Garanti BBVA recently launched a new tool to allow customers to view their carbon footprint. The new feature on the Garanti BBVA mobile app calculates their carbon emissions based on utility and fuel expenditures, and aims to contribute to a more sustainable world, and the climate crisis.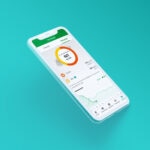 With its new feature, Garanti BBVA hopes to raise awareness among customers regarding the climate crisis. The environmental section of the bank's mobile app shows users the number of trees needed to compensate for the carbon footprint from their utility and fuel consumption, as well as the corresponding cubic meters of water. Customers are also able to compare their carbon footprint over the past two years.
In addition, the bank offers its customers recommendations of steps they can take to reduce their environmental impact. For example, the tool provides information on sustainable products and services, offers the option of digital bank statements, and mobile banking to reduce the need for transportation.
Garanti BBVA Deputy General Manager Isil Akdemir Evlioglu explained that the bank has been focusing on sustainability and the fight against climate change in its business for many years now. "We are accountable to our employees, customers, society and the country's economy. In order to take good care of our world and our future, we contribute to Turkey's sustainable development and the transition to a low-carbon economy by minimizing the environmental impact of our activities with grassroots practices," he said. One example of this is the bank using ecoDrones to drop seeds in remote locations, as part of its contributions to the fight against climate change. In addition, the bank also encourages its customers to be part of this responsibility-oriented transformation by  helping them set social and environmental goals in the field of sustainability.
Garanti BBVA believes that we all need to act collectively in order to make the transformation to a sustainable life a reality. "With small changes in our habits, we can reduce our carbon footprint and the damage we do to the planet. That's why we invite everyone to be a part of this transformation to a sustainable life. We will continue to harness our technological capabilities for the benefit of people, society and the sustainability of our world," Isil Akdemir Evlioglu added.
What is a carbon footprint?
A carbon footprint measures the amount of damage human activities cause to the environment based on the amount of greenhouse gases that are produced, or units of carbon dioxide.  A carbon footprint consists of two parts: direct (primary) and indirect (secondary). A primary carbon footprint measures CO2 emissions resulting from activities such as household energy consumption and transportation. A secondary carbon footprint measures the CO2 emissions resulting from the entire life cycle of the products we consume, including their manufacturing and transportation.