What is agribusiness and why is it important?
The term agribusiness is used to refer to economic activities derived from or connected to farm products. In other words, crop production, as well as crop processing, transportation and distribution. Agriculture and all of its economic, social and demographic derivatives… a sector that has an impact on practically all the Sustainable Development Goals (SDGs).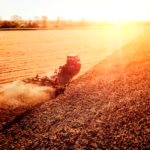 According to the Food and Agriculture Organization of the United Nations (FAO), over 70 percent of the world's food needs are met by small farmers.
Agriculture is the economic sector that employs the most people in the world, and the main source of food and income for many people living in poverty.  Thus, investing in agriculture is not only one of the most effective strategies to improve food security and promote sustainability, it is also essential to many countries' economic development.
Policies designed to promote agribusiness and sustainable food value chains play a crucial role in achieving the SDGs. For this reason, within this framework and as part of its Pledge 2025, BBVA mobilized nearly €12 billion in 2018 in sustainable finance and to fight climate change, 13 percent of which was allocated to sustainable infrastructure and agribusiness.
The agriculture sector is fundamental to the economy of developing countries
In order to offer loans of this kind, BBVA has established sectoral rules that specify the activities the bank does not allow when applying for a loan to finance a project. In the agribusiness field, initiatives or companies involved in the following will not have access to financing: illegal logging, elimination of forests with high conservation value and high carbon content, the use of substances banned by the Stockholm Convention, palm oil farming in wetlands and peatlands, the production of uncertified palm oil, the burning of natural ecosystems for farming projects or the elimination of first generation biofuels.
The agriculture sector is fundamental to the economy of developing countries. In Latin America, it represents five percent of the
regional GDP and 25 percent of exports. It is therefore highly important that the agriculture sector, governments and civil society promote inclusive and efficient food systems that integrate farm workers and companies in food value chains.
Financing agribusiness can increase the added value of raw materials, strengthening local rural economies, food security and nutrition, and improving the quality of life in many homes at risk of exclusion and vulnerability. Policies, incentives and regulatory frameworks that safeguard and promote agro-industries have proven to be highly effective at lifting rural populations out of poverty in many countries.
Through the Microfinance Foundation, BBVA supports small farmers in rural areas to boost their growth through green microloans. The BBVA Microfinance Foundation has several programs in two of its institutions: Bancamía in Colombia and Banco Adopem in the Dominican Republic.
Bancamía (Colombia): Microfinance for Ecosystem-based Adaptation (MEbA) offers loans and technical assistance to small farmers to help them use environmentally efficient techniques to adapt their crops and make them more resistant to climate change.
Banco Adopem (Dominican Republic): Over 40 percent of the entrepreneurs the foundation supports in the country live in rural places. The foundation therefore pays special attention to farmers with agricultural loans to foster their development and strengthen their resilience to climate change. Its main initiative is called Rural and Environmental Finance, and also includes the MEbA project.
In addition, in wholesale banking, BBVA signed an $2.1 billion agreement with the agribusiness company COFCO International for the first sustainable syndicated financing of a Chinese corporate client. This operation is also part of BBVA's strategy to fight against climate change.
It is also worth noting that 169 companies were selected for the eighth and latest edition of BBVA Momentum. Of these companies, 40 were from Colombia, 19 from the U.S., 100 from Mexico and 10 from Turkey. 33, or 20 percent of all the selected companies, work to promote agriculture, livestock, fishing and forestry.