The Juncker Plan, which was launched in 2004, has helped reduce the investment gap caused by the economic and financial crisis. Looking forward to the next decade, Europe should focus on a two-pronged strategy: implementing a greener sustainable investment model and backing key digital capabilities. According to BBVA's executive board member, José Manuel González-Páramo, Europe must develop a forward-looking sustainable finance model.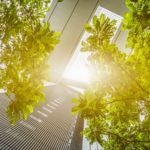 José Manuel González-Páramo, BBVA executive board member and Head of Global Economics and Public Affairs, participated in the financial forum, Eurofi, held in Bucharest. At the event he talked with Pablo Hernández de Cos, Governor of the Banco de España, and other financial leaders about the challenges of improving Europe's long-term investment landscape. He raised the fact that Europe will need close to €180 billion in investments per year if the EU is to meet its 2030 Paris Agreement goals.
He thus stressed how important it is for the EU to ramp up the adoption of new sustainable technologies, both in the private and public sectors, in order to improve the competitiveness of European companies in this area.  In general, larger companies have the necessary resources to address this shift. That is why, in his view, efforts should be focused on fostering sustainability within the small and medium-sized business segment, where an example of a potential area of improvement is to optimize the energy efficiency of their buildings.
According to current European Commission data, consumption by buildings represents 40 percent of total energy consumption and 36 percent of CO2 emissions. Close to 75 percent of buildings suffer inefficient energy consumption.
Given these statistics, there are two ways the financial sector could make a difference: by providing advice to small and medium-sized businesses – for example, helping them calculate their carbon footprint so that they a have a measurable starting point from which to base their sustainable decision-making; and by providing financial support, through retail products like mortgages, linking energy efficiency to favorable financing terms, thus promoting green investment.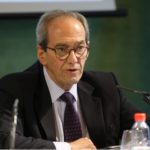 José Manuel González-Páramo, BBVA executive board member and Head of Global Economics and Public Affairs. - BBVA
González-Páramo also stressed the need to invest in digital capabilities like artificial intelligence and cybersecurity so Europe can benefit from a more robust digital infrastructure. On this this topic, González-Páramo welcomed the EU's ambitious funding program Digital Europe, which will be launched in 2021. This initiative will finance projects in five areas: supercomputing, artificial intelligence, cybersecurity, advanced e-skills, and promoting the widespread use of digital technologies across the economy and society.
José Manuel González-Páramo emphasized that, despite all the EU initiatives promoting long-term investment by funding projects and infrastructure, challenges still remain. He stressed the implementation of IFRS 9 accounting standards, the Basel III regulatory framework, and the completion of the capital markets union.
How then can the finance and insurance industries play a greater role? BBVA's executive board member pointed to initiatives such as classifying infrastructure investments as an asset class by standardizing contracts, developing a common jargon, and emphasizing risk distribution, enhancing the role of multilateral banks like the European Investment Bank through extended guarantees and co-financing projects.