"The European capital markets union is crucial in order to stimulate sustainable investment"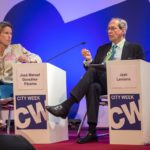 José Manuel Gónzález-Páramo participated in a panel entitled "Toward the EU capital markets union" at City Week, a financial event organized by City & Financial Global in London. During his appearance, he stressed that the European Union is facing relevant economic challenges: weak long-term growth and productivity; possible intense economic weakness in the short-term given the trade war; a lack of alignment; and threats to its social cohesion. Convergence in the European Union and in the eurozone is needed, he explained.
He underscored that the capital markets union (CMU) has been the flagship initiative of the European Commission during the last four years. It has seen three principle advances: increased funding opportunities for SMEs; increased investment opportunities for retail clients; and the creation of a more stable and resilient financial system.
"Nonetheless, a full-fledged CMU isn't created overnight" he pointed out. "Although the measures that have been taken are beginning to make an impact, other measures are pending implementation." Among these still-needed measures, the BBVA director mentioned an area where that CMU plays a key role: the action plan for sustainable finance.
Europe needs €180 million in investment each year for the next decade if it is to comply with the Paris Agreement. "Europe needs an integrated, fully-entrenched market in order to ensure the orderly transition in line with the Sustainable Development Goals and the Paris Agreement, with a view of being able to secure private investment for financing sustainable projects."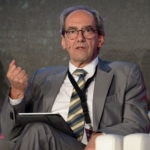 José Manuel González-Páramo, BBVA Head of Global Economics and Public Affairs.
According to José Manuel González-Páramo, the CMU has two objectives where sustainable finance could play an important role:
The capital markets union seeks to enhance the single market via new harmonized financial products with common labels, and passports. The new legal framework on securitization with "simple, transparent, and standardized" (STS) criteria is a clear example of success. But, in regard to sustainable finance, a unified EU taxonomy needs to be created in order to determine which economic activities are sustainable; concurrently, such a taxonomy needs to be sufficiently flexible in order to recognize those activities that may not be sustainable today, might be so in the future.
The CMU seeks to support businesses and investors with clearer, more simple rules. He underscored two initiatives: first, regulation about investment data and sustainable risks, with the goal of introducing consistency and clarity in the way institutional investors apply socially responsible investment criteria. Second, the role that the banks should play in financing SMEs and infrastructure projects aimed at improving energy efficiency.
"An integrated capital markets union that works well is crucial in order to redirect the flows of public and private capital towards more sustainable investments, including through new rules that will allow investors to make better, more informed decisions about the sustainability of their investments." González-Páramo explained. "Both initiatives – the sustainable action plan and the CMU – should work together in order to promote long-term inclusive growth that leaves no one behind in addition to long term sustainable growth that leaves a better world for our children."