The Spanish-Turkish Chamber of Commerce recognizes the work of Onur Genç as BBVA's Chief Executive Officer
On Thursday, BBVA CEO Onur Genç was recognized by the Spanish-Turkish Chamber of Commerce in the professional merit category for his career at the bank. At the awards ceremony, Genç reviewed BBVA's role as a link between markets as important as Latin America and Spain and a country with as much potential as Turkey.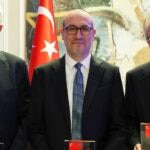 Thus, the Spanish-Turkish Chamber of Commerce recognized Onur Genç's role as the first CEO of Turkish origin in a large Spanish bank. "It is an honor for me to be presented this award from the Spanish-Turkish Chamber of Commerce. It is very satisfying to receive this award that connects two countries that are so close," Onur Genç said during the awards ceremony.
Onur  Genç stressed the importance of trade relations between Spain and Turkey, with a total trade flow volume that is expected to reach €18 billion by the end of 2022. In this regard he emphasized that Turkey can serve as an entry point to Asia for Spanish companies, and likewise Spain can act as an entry point to Latin America for Turkish companies. "You can count on the BBVA Group to develop these commercial ties," he said.
BBVA began operating in Turkey in 2011, when it acquired a 25 percent share of Garanti from Dogus Group. Since then, BBVA has been increasing its stake, recently acquiring 86 percent of the bank. "Our commitment to the country is absolute. Garanti BBVA is the best bank in Turkey," Onur Genç said.
The BBVA CEO received this recognition at an event attended by the Spanish Secretary of State for Tourism, Fernando Valdés Verelst  and Burak Akçapar, Ambassador of Turkey in Madrid. In 2017,  BBVA was a recipient of these awards in the Spanish company category. BBVA is a founding member of the Chamber, in 2011.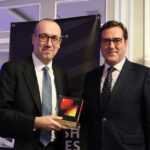 BBVA CEO, Onur Genç, with Antonio Garamendi, CEOE President - BBVA
Seventh edition of these awards
By granting these awards, the Chamber seeks to recognize those Spanish and Turkish individuals, institutions or entities whose work and dedication stand out for contributing to greater mutual knowledge or a higher level of interaction between the two countries. In this seventh edition, the Barceló Group was also recognized in the Spanish company category for promoting the tourism sector; and Arkas Logistics in the Turkish company category for promoting logistics trade between the two countries.
The Official Spanish-Turkish Chamber of Commerce and Industry was inaugurated in Madrid in 2011, with the purpose of promoting and contributing to stronger relations between the two countries in all business sectors. The Board of Directors includes major Spanish and Turkish groups such as BBVA, Turkish Airlines, Amadeus, Banco Sabadell, CaixaBank, DLA Piper, Mapfre, Roca, the Investment Office of the Presidency of the Republic of Turkey, Font & Yildiz, Navantia, Sampa, Orka Holding, Vestel Iberia and Zumosol. The Chamber of Commerce is supported by official institutions, with the Embassy of Spain in Turkey and the Embassy of Turkey in Spain being honorary members of the Chamber.