The Garanti BBVA mobile application uses biometric authentication technology to provide customers a better user experience and increased security. The bank's customers' warm response — registering more than 800,000 activations using iris recognition per month— validates the bank's investment in the technology.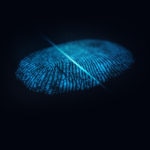 The banking industry in Turkey continues to exploit advances in technology in order to develop new applications that make their services more secure and make their customers' lives easier. Garanti BBVA is no exception. The bank has incorporated the latest advances in biometrics into its mobile services to provide enhanced security in its authentication systems.
The bank's use of iris recognition to authenticate users has not gone unnoticed: each month, an average of 847,000 Garanti BBVA mobile app sessions using the iris recognition login feature are logged. Customers are able to start a transaction with a simple glance at the camera on their phone.
This functionality — available on all iOS and Android phones —  allows customers to access all the bank's services in seconds, without having to enter a password. To configure the system, a customer should first scan his iris in a well-lit location, staying as still as possible. From then on, logging into the app is as simple as tapping the eye icon to activate the iris recognition feature. No passwords or other information is needed.
Furthermore, Garanti BBVA has incorporated voice biometrics into its customer support processes. Customer representatives at the bank's support center can quickly identify and authenticate customers without having to ask additional security questions.