Garanti BBVA signs the declaration of corporate social responsibility of the UN Global Compact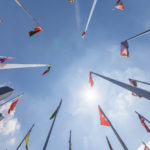 Speaking at the signing event, Garanti BBVA CEO Recep Baştuğ emphasized that the bank has spent the past 15 years striving to create a more sustainable world, supporting a number of initiatives promoted by different international institutions, including Turkey's UN Global Compact delegation, with which the bank cooperates closely to implement different measures.
"This year, on the occasion of the United Nations' 75th anniversary, the Global Compact has launched an admirable initiative, the Declaration of Business Leaders," said the executive. The initiative has been promoted to urge companies to adopt measures and take responsibility on multiple fronts: the coronavirus pandemic, climate change, social inequality, economic uncertainty, etc. "Garanti BBVA, the leader in sustainable finance in Turkey, attaches special importance to environmental and social issues. Therefore, it is with absolute conviction that I have signed this declaration on behalf of our bank, "said Baştuğ.
Leadership in sustainable finance
This is not the first time that Garanti BBVA has worked with Turkey's Global Compact delegation to promote sustainable measures. In this regard, Recep Baştuğ recalled that "the bank holds the presidency of its Sustainable Finance Group." A position that that led the bank to play a prominent role in the development of the Declaration of Sustainable Finance in 2019. This declaration was signed by eight of Turkey's leading banks, representing around 40 percent of the country's total volume of assets. "With the signing of this commitment, the signatory banks undertake to comply with certain social and environmental risk management requirements," concluded Garanti BBVA's CEO.