BBVA lights up headquarters for fifth anniversary of the SDGs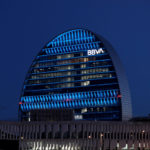 Sustainability is among BBVA's strategic priorities announced in 2020, and the company has created a transactional product framework in line with the Sustainable Development Goals. The company has highlighted five SDGs in its strategic plan. With regard to climate action, it underscores SDG 7 (Affordable and Clean Energy), SDG 12 (Responsible Consumption and Production) and SDG 13 (Climate Action). As for the goals concerning inclusive growth, the company calls attention to inclusive economic development, as defined in SDG 8 (Decent Work and Economic Growth) and SDG 9 (Industry, Innovation and Infrastructure).
Through its Pledge 2025, BBVA aims to mobilize EUR 100 billion in sustainable finance by 2025. As of June 30, 2020, BBVA had already surpassed 40% of that target. The company is one of the 30 founding banks of the United Nations Principles for Responsible Banking, which celebrated its first anniversary on Tuesday, September 22 and which defines the sector's role in moving toward a more sustainable world. BBVA has already consolidated its leading role through bond issuance and the granting of sustainable loans. BBVA became the first bank in the world to issue a green CoCo bond.
Sustainable solution
The company aspires to only offer products that provide clients with sustainable solutions, whether the client be a large company, institution, SME or individual. It's an aspiration that BBVA hopes to achieve in 2020 for all major products in Spain. Furthermore, the company has committed to being carbon neutral in 2020, which involved assigning an internal price for its CO2 emissions and incorporating this factor into decision-making, planning and the BBVA budget.
The company also underscores the social benefits of supporting SDG 4 — Ensure inclusive and equitable quality education and promote lifelong learning opportunities for all. With that in mind, in 2019 BBVA invested EUR 77.6 million in knowledge, education and culture, benefitting 7.2 million people. Between 2016 and 2019, BBVA invested EUR 414 million in social programs, benefitting more than 35 million people.
 BBVA Microfinance Foundation
The work carried out by the BBVA Microfinance Foundation is also vital to achieving the SDGs. Given the financial services and support it provides to low-income entrepreneurs, the BBVA Microfinance Foundation has a significant impact on 12 of the 17 Goals.
BBVA and the entire financial sector play a crucial role in the fight against climate change and in achieving the Sustainable Development Goals, owing to their unique ability to mobilize capital through investments, loans, issuances and advisory functions.