Applications for the 17th 'Türkiye's Women Entrepreneurs' contest are now open
This pioneering initiative by Garanti BBVA will see this year a new category, 'Women's Cooperative of Türkiye', aiming to recognize women's efforts through cooperatives. Candidates may apply by filling out the form at www.garantibbvakadingirisimci.com until November 15, 2023.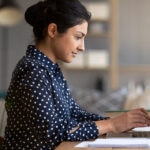 Garanti BBVA has been working for many years to contribute to the empowerment of women for sustainable economic and social development, to show their potential and to create change and development in their lives. The BBVA Turkish unit launched 'Türkiye's Women Entrepreneurs' in 2007 to further remove the obstacles for women entrepreneurs and support them to increase their motivation, to hear their success stories and to become role models.
Now in its 17th year, the bank and partner KAGIDER ((Women Entrepreneurs Association of Türkiye), is adding a new category to the competition: 'Women's Cooperative of Türkiye', aimed at motivating cooperatives where women are empowered by producing together, who carry out works that make a difference and whose number is constantly increasing. Women's cooperatives founded and operated by women and focused on creating positive economic, social and environmental impacts on women are invited to participate. "We have women's cooperatives in Anatolia that have achieved great things with limited opportunities and have made a sustainable contribution to the employment and development of the region," Garanti BBVA Deputy General Manager Sibel Kaya said. "As we celebrate the 100th anniversary of our Republic, it has become even more important for women to be strong and equal in every sense," she added.
Garanti BBVA's Kaya underlined the value of women entrepreneurs increasing exponentially in every job they handle. "Women entrepreneurs make great gains just by applying to the competition. Their courage also increases their motivation to develop their business, thus contributing to their business and the economy. We have created a big ecosystem together," she said.
KAGİDER President Esra Bezircioğlu added that "We are very happy and excited that an award will be given in the category of 'Türkiye's Women's Cooperative' for the first time this year. As KAGİDER, women's cooperatives are an area that we attach great importance to and we are carrying out various projects in this field. It is very valuable that their successful work will be crowned with an award. I hereby invite all women's cooperatives to participate in the competition.
The award ceremony will be held in March 2024. The winner of the 'Woman Entrepreneur of Türkiye' award will receive 200,000 TL, while the winners of the categories of 'Woman Entrepreneur Making a Sustainable Difference in Türkiye's Region', 'Türkiye's Promising Woman Entrepreneur,' 'Türkiye's Woman Social Impact Entrepreneur' and 'Türkiye's Women's Cooperative' will receive 150,000 TL each.