Following Glasgow's 26th Climate Change Conference (COP26), BBVA's Turkish unit and the Institute of International Finance (IIF) recently held a workshop to discuss the prospects of climate financing and sustainability efforts in developing nations.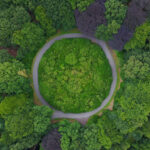 Hosted by Garanti BBVA, the IIF Climate Finance Workshop covered key issues in climate finance, including risk management, reporting and portfolio compliance. Public and private sector representatives, scholars and experts shared their views on mobilizing climate financing for the Turkish economy.
Arzu Önsal, Deputy Director of Climate Change at the Turkish Ministry of Environment, Urbanization and Climate Change, commented on some of the decisions from COP26 and analyzed their impact on Turkey. Önsal recalled that Turkey has set a net zero target for 2053 and recently updated its national climate plans. In addition, he described some of the Ministry's key actions in this regard, such as the Climate Change Law, the establishment of an ETS (Emission Trading System), and the Climate Council. He also announced that the  Directorate of Climate Change will supervise the newly-created Department of Climate Finance and Incentives and the Carbon Market Department.
During her keynote presentation, Garanti BBVA Executive Vice President Ebru Dildar Edin reminded the participants that COP26 called for a gradual reduction in the use of coal and fossil fuels."This means that decisions in Turkey will be decisive to our climate policy," she said. In this regard, Dildar Edin underlined Turkey's commitment to becoming a regional leader in implementing the Glasgow Climate Pact.
"After all these developments, we now see that companies in Turkey are also taking steps to decarbonize. At Garanti BBVA, we have been contributing to sustainable development for more than 15 years by transforming our products and services from a sustainable finance perspective," she said.  At the same time, Garanti BBVA attaches great importance to raising awareness of the local sustainable finance market through a wide array of activities, she added.
As of September 2021, Garanti BBVA had already provided over TL 60 billion in financing for sustainable development. Within the scope of the Sustainable Development Goals and COP26 results, "we will continue to lead the transformation of the business world to facilitate our country's transition to a low carbon economy," she noted.
Finally, Sonja Gibbs, Senior Director of Sustainable Finance at the IFF, insisted that: "Banks will play a huge role in financing the transition to a low-carbon, net zero economy."