Investor angels, or business angels, are people who invest their money in the initial phase of startups, in exchange for a participation in capital. They also usually carry out the role of a mentor and offer their consent and experience to entrepreneurs.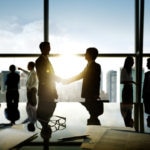 In their initial stages, startups implement all types of financing strategies to push their projects forward. One of them is to call upon a business angel, that is, someone with a large amount of capital who decides to invest in recently-created companies in exchange for a participation in the share capital of the future business.
Ostensibly, the origin of the term investor angel comes from the theatrical and musical world of Broadway, where producers who needed financing for their plays turned to wealthy people from uptown, who went downtown to give a hand financially to these cultural entrepreneurs—as though they were angels.
From their origins on the stage, business angels have become better known in Silicon Valley, where they tend to support tech startups. Their financial participation in the companies covers the gap between seed capital (which normally comes from people close to the company) and risk capital, which comes from investment funds and is done at later stages of the business.
These investor angels are included in the "informal" investor category and are usually people with a vast personal fortune and extensive experience in the business world. In general, they invest between $25,000 and $100,000 in a company, although these figures can vary and occasionally, go much higher.
The objective of the business angels is, on one hand, to obtain a benefit from their investment, and also, to help entrepreneurs successfully bring their business idea to the market. The role of these investors has become a determining factor in the case of many business projects, given that by being involved, they not only contribute money, but also experience, advice, a network of contacts and business vision, which can make the difference between an mere idea and a real, viable company. Companies that today have become giant corporations, such as Ford, Apple and Amazon, had the support of business angels in their initial stages.
Beyond capital
Support other than financial investment is one of the characteristics that sets business angels apart from other investors, whose role tends to be limited to contributing capital in exchange for a share of the company. Business angels have a closer role to the company and also monitor the project more closely. Theses investors often simulate the figure of a mentor or guide, who decides to dedicate their experience and knowledge to the service of entrepreneurs.
Once a business angel commits to a startup, he or she provides a key initial financial base from which to start producing the goods and services designed. In addition, when the business angel already enjoys a reputation in the industry, its connection to the startup tends to have a positive external image and gives the project credibility.
It is common for people to remain anonymous, although some are well known, such as Jeff Bezos (Amazon founder and CEO), Marissa Mayer (Yahoo CEO) and Max Levchin (PayPal co-founder and CTO).