Davos Forum 2020: Fifty years strong and with a new sustainability manifesto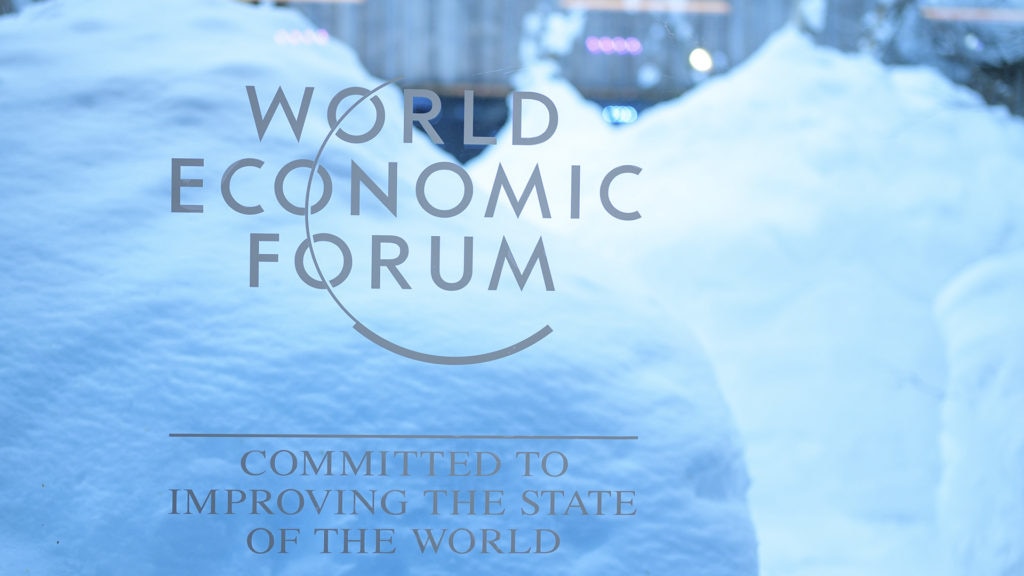 This year marks the 50th anniversary of the World Economic Forum, popularly known as the Davos Forum. The event kicks off on January 21 in the Swiss district of Davos-Klosters. For half a century, this forum has brought together politicians, businesspeople, and representatives from social and cultural organizations in order to find solutions for the world's problems. 2020 sees the launch of a new 'Davos Manifesto' with the single objective of building a more sustainable, inclusive world.
This year, 3,000 participants from around the world will converge on Davos with the aim of helping governments and international institutions make progress toward fulfilling the Paris Agreement and the UN's Sustainable Development Goals. They will also facilitate discussions about technology and corporate governance.
The first Davos Manifesto was published in 1973 for business leaders. Now, on the occasion of the forum's 50th anniversary, the manifesto has been revived and renewed, calling for a new role for the private sector as we cross the threshold into the fourth industrial revolution.
"Our efforts to keep global warming limited to 1.5°C are falling dangerously short," the World Economic Forum's Founder and Executive Chairman, Klaus Schwab, stressed in a statement. "With the world at such critical crossroads, this year we must develop a 'Davos Manifesto 2020' to reimagine the purpose and scorecards for companies and governments."
This year the summit will address six key global challenges: (1) advocating for the environment and a response to climate change threats, (2) pursuing a more inclusive economy, (3) reaching global consensus on the deployment of Fourth Industrial Revolution technology, (4) how to reskill and upskill a billion people over the next decade, (5) building bridges to address global conflict, (6) helping businesses develop the models needed to drive business activity in the Fourth Industrial Revolution.
A more sustainable forum
The Davos Forum reports on their website that this year's event will be one of the most sustainable annual summits held to date. It has received IS0 20121 certification for sustainable events and will be totally carbon neutral. This accomplishment is possible thanks to policies that dictate using locally-sourced food suppliers, introducing alternative sources of protein to reduce meat consumption, sourcing 100% renewable electricity, reducing or eliminating the use of materials that cannot be recycled or easily re-used, and making more electric vehicles available.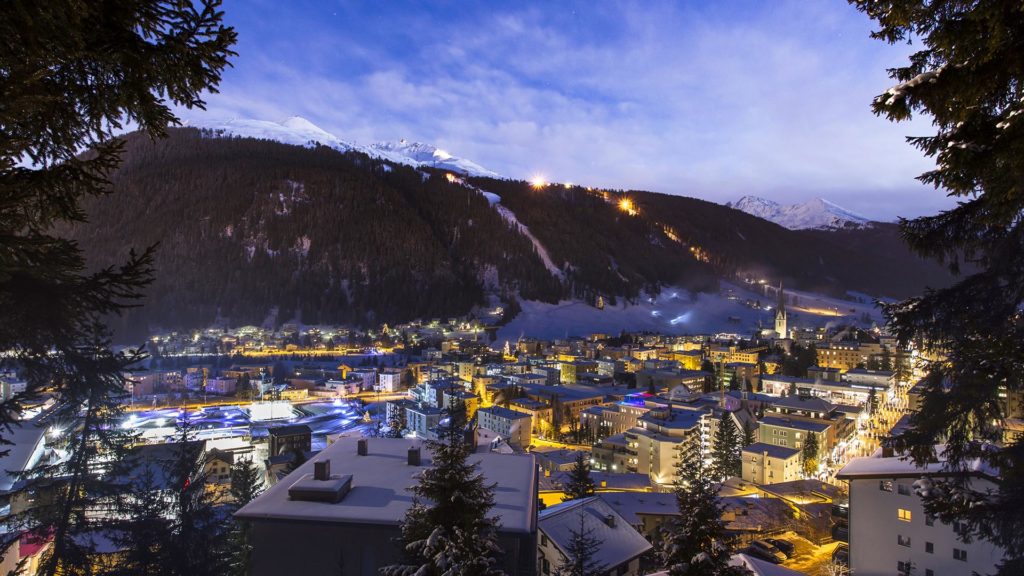 Davos is the highest town in Europe
What is the Davos Forum?
Davos is the highest city in Europe. Surrounded by mountains, it houses the largest ski station in Switzerland. However, Davos is not famous for its snow but for the fact that it hosts the World Economic Forum (WEF). This annual meeting is attended by political, business, cultural and media leaders who wish to take part in the international agenda.
Davos was established in 1971 in Geneva (Switzerland) as an "independent, impartial and not tied to special interests" non-profit organization. Its founder is Klaus M. Schwab, a professor at the University of Geneva, who initially invited 444 executives from European companies to a meeting on corporate governance in the convention center of Davos.
His idea was to introduce the American business management approach to European firms. He never imagined that that meeting would lead to the unparalleled international summit that it is today.
The forum's goal is to build a better world by involving the people who have the power to make a difference: those political leaders, CEOs, and other world leaders tasked with defining challenges, solutions, and measures — always with the global community's best interests in mind.
Thousands of ideas come out of the Davos Forum. Not all of them materialize, but some have come far: the North American Free Trade Agreement, signed between Canada, Mexico, and the United States, was first proposed at an informal meeting in Davos.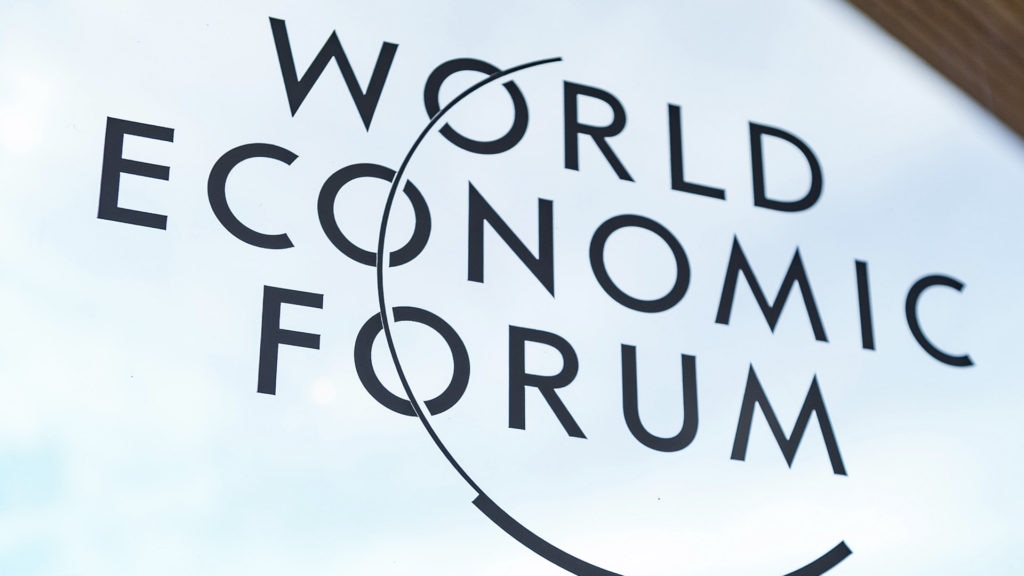 To twitter
When does the World Economic Forum Annual Meeting take place? The 50th Meeting of the WEF in Davos will be held January 21-24, 2020
Who will be at Davos this year?
Running over the course of four full days and consisting of 150 working sessions, the forum will be attended by 607 representatives from the highest levels of leadership. Two of the guests who generally cause a lot of media stir are U.S. President Donald Trump and his Russian counterpart, Vladimir Putin. Spanish Prime Minister Pedro Sánchez is repeating at the summit, and will be accompanied by the Minister of Economic Affairs and Digital Transformation, Nadia Calviño. 
The 3,000 people attending Davos this year represent more than just governments. Attendance includes senior executives from the most important companies in the world, leaders from international organizations and important NGOs, notable cultural and social leaders, such as Swedish activist Greta Thunberg who will participate for the second year in a row. Former U.S. Vice President Al Gore and anthropologist Jane Goodall are also expected to attend.
Business leaders expected to attend include James Dimon from JP Morgan, Sheryl Sandberg from Facebook, and Axel Weber from UBS, to name a few. From Spain's corporate delegation, numerous high-ranking executives from Ibex 35 companies have confirmed their attendance, including BBVA Group executive chairman Carlos Torres Vila and CEO Onur Genç.
The 26th 'Annual Crystal Awards' will also be presented in recognition of outstanding contributors to the arts and culture. This year the winners are Theaster Gates and Lynette Wallworth, both artists; choreographer Jin Xing; and actress Deepika Padukone.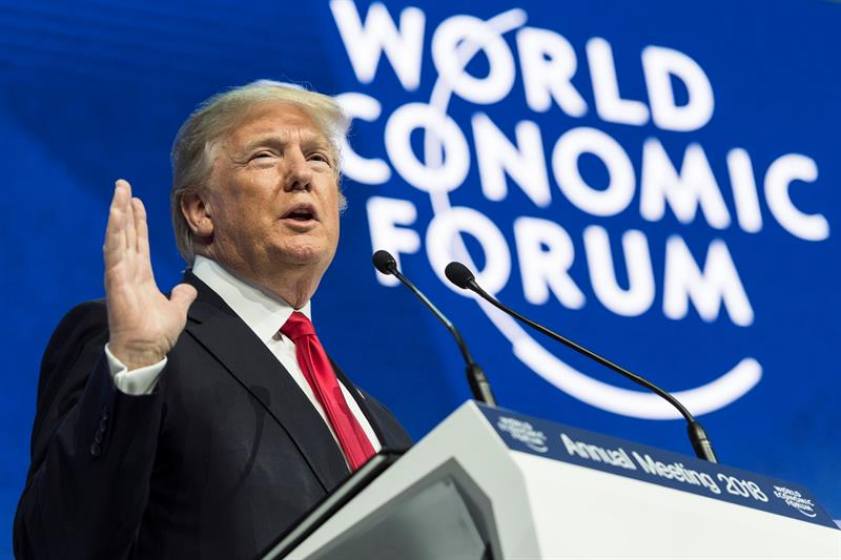 Donald J. Trump, during his speech at the plenary session of 48th World Economic Forum in Davos.
How can you follow the World Economic Forum in Davos?
There is no excuse to miss out: various channels have been set up where event discussions and agenda activities can be followed.
The conversations can be followed on Twitter at (@wef and @davos), under hashtag #wef20, and on Facebook, Instagram, and LinkedIn. Also follow at LinkedIn, Google+, and Youtube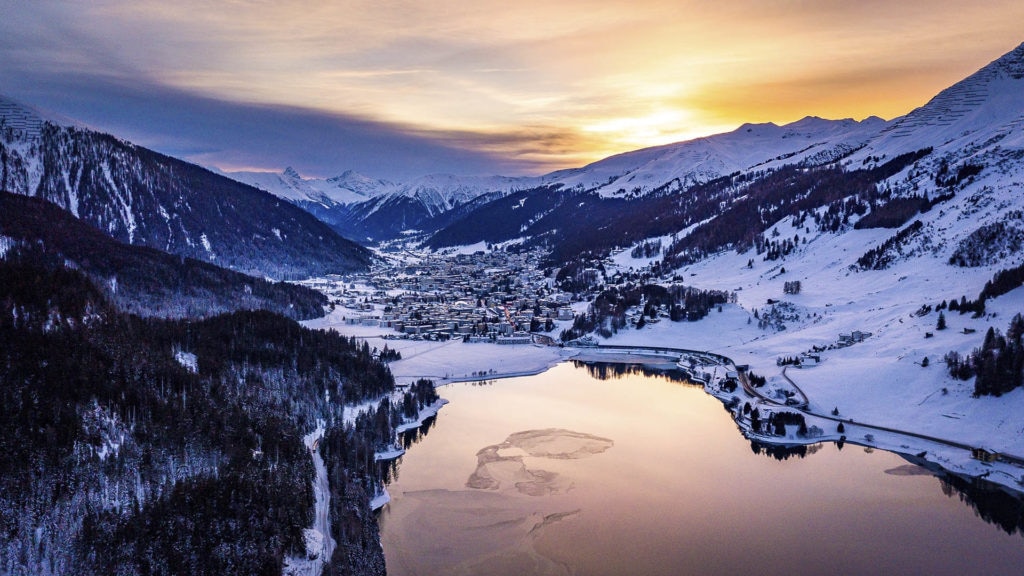 To twitter
In 1971, University of Geneva Professor Klaus M. Schwab invited 444 executives to attend, more than four decades ago