X International Seminar on Language and Journalism: Plain language, a 21st century challenge
"Plain language entails putting readers first: discovering what they want to know, what information they need and helping them meet their goals. The goal is for readers to be able to understand a document written in plain language the first time they read it. But plain language doesn't only have to do with language: it also includes the design, layout and mucho more."
International Plain Language Federation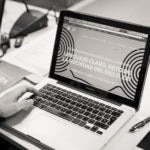 The 10th International Seminar on Language and Journalism was held on May 3 and 4, 2017 in San Millán de la Cogolla (La Rioja, Spain). The purpose of the seminar was to debate whether companies, the media and administrations speak the same language as citizens, what clear language is and how we can get to it.
The Seminar was opened by HM Queen Letizia, who was accompanied by the president of the Autonomous Community of La Rioja, the President of the San Millán Foundation, José Ignacio Ceniceros, and the Director of the Royal Spanish Academy of Language, Darío Villanueva. Ethics professor and director of Etnor Foundation, Adela Cortina, delivered the inaugural speech.
The event was attended by experts in the matter, including representatives from associations such as Clarity, professors, deputies, heads of communication, ombudspeople, journalists and clear language text editors.
BBVA was invited to this Seminar, as the company has been working on its TCR (Transparent, Clear and Responsible) Project for four years now, and transparency is a cornerstone of the company's purpose: "to bring the age of opportunity to everyone."
Esther de la Torre in her participation in the seminar - Fundéu / Judith González Ferrán.
For customers, transparency is a higher priority even than saving time, according to a study by Globescan in 8 countries. Customers prefer to get transparent information from their bank, in clear language (57%), than for their bank to help them save time (38%).
In other words, in their relationship with companies, people don't want to read, they want to do things: inform themselves, compare, take out a loan or make a transaction. Precisely, clear language helps put keep the spotlight on "actions" by keeping language out of it. An obscure language can turn into an obstacle for the action, while clear language helps drive this action.
But clear language must be used responsibility, because, alone, it isn't the solution to help people make informed decisions. Clarity must go hand in hand with transparency. Clear language is pointless if the communication lacks relevant information or fails to offer an unbiased comparison between advantages and costs or risks. On the other hand, some documents may contain all the relevant information, but lack a clear structure and/or wording. The key is in the balance, in distributing the information at the right time, and keeping people always at the core. This is becoming easier and easier every day, because we are in the midst of a revolution:
Internet has disrupted the classic communications paradigm, creating a space where all forms of communication coexist: written, visual and audiovisual.
It has changed the way of communicating and, at the same time, changed reading habits. The same way we read differently from a screen than from a piece of paper, a text that is going to be published online shouldn't be organized in the same manner as one that is going to be printed.
This means that we need to be extremely careful with the information density of our layouts. Cramming too much text, using the same font size all the time, without the adequate spacing tends to confuse and tire customers.
What are the advantages of being Transparent, Clear and Responsible?
It makes it easier for customers to make informed decision.
It helps customers understand messages with minimum cognitive effort.
In digital channels, it reduces rebound and drop-off rates.
It fosters accessibility: One of the guidelines for people with some kind of disability, aimed at Web Contents (WCAG 2.0) is clear language.
It drives
Employee commitment is higher in institutions that speak clearly.
Reputational improvement: Two of the cornerstones of reputation are trust and brand relatability. An effective communication achieves this.
Improving customer experience and recommendation rates: The more transparent brands are also the most recommended ones.
This is already showing in our numbers: In 7 of the 11 countries in which we operate, we are already the top-rated institution in relation with our peers in terms of Clarity and Transparency. This is a long-term effort, of which we're tremendously proud, and which is yielding its fruits.