Over 1,000 aspiring chefs and culinary students from around the world have submitted applications to take part in the scholarship program launched by BBVA in early January, in partnership with The World's 50 Best Restaurants organization. The winner, who will be announced on April 18 and presented in Bilbao at the annual The World's 50 Best Restaurants awards ceremony in June, will get the chance to complete a training program in restaurants Mugaritz, in San Sebastian, Spain, and Atelier Crenn, in San Francisco, California.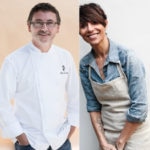 Over the one-month application period, which expired on February 6 at midnight, a total of 1,080 applications were received from individuals the minimum 18 years of age up to 53, representing 82 different countries. The program is intended for students from culinary schools and cooks with limited experience. Of the total number of applicants, 36% were women.
In the next stage of the selection process, the jury will review the applications to choose the 20 aspirants who will make it to the final stages. The finalists will be requested to submit a presentation video explaining their approach to cooking and showcasing a recipe they have created which is representative of their cooking. In mid-March, the jury will announce the three candidates that will move to the final stage of the award process. The first winner of the 50 Best BBVA scholarship will be announced on April 18, and will be presented at The World's 50 Best Restaurants 2018 ceremony in Bilbao, before an audience consisting of some of the world's best chefs and media correspondents.
This scholarship program aims to offer opportunities to aspiring chefs from all over the world. The winner will undergo a training program in two of the world's most prestigious restaurants. First, he/she will spend six weeks working with chef Andoni Luis Aduriz in Mugaritz (San Sebastian), currently the No.9 restaurant in the world. Then, he/she will join the staff at Atelier Crenn to complete the program, under the supervision of Dominique Crenn, the French chef named The World's Best Female Chef in 2016.