The 3-6-9 formula: how to create amazing customer experiences
The creation model is the way the BBVA Group works to create amazing experiences for its customers. As the way customers engage with the bank evolves, so does BBVA, anticipating their needs. It's a development model that involves designers, software engineers, data analysis experts, banking experts… all focused on delivering solutions for customers within nine months.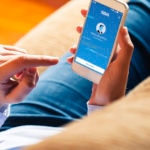 Derek White, Global Head of Customer Solutions at BBVA, normally describes his job at BBVA with the ACE acronym in which A stands for "Amazing, C stands for "Connected" and E stands for "Execution".
"Amazing' means focusing on what really matters to customers," White explains. "Our customers' expectations are amazing and that means that we focus on doing fewer things, but doing them better."
'Connected' refers to the importance of ensuring that the teams that work at BBVA are connected to each other. Connecting  individuals, teams so that the entire organization works in coordination.
'Execution' is the whole process of delivering solutions to customers. "Execution is when customers can touch, feel, and experience our amazing products and services. When they feel the impact of the work the teams have done to be connected," Derek White explains.
These three key factors make up the development model – the system used to create mobile apps, web services and all the tools that allow customers to engage with the bank. This model consists of two elements: the triangle and the 3-6-9 model.
The triangle is the first step in each project. It represents the connection among the teams that will work on the project involving those in charge of business, user experience (designers and data experts), as well as technology directors and software engineers. They all have the same weight in an equilateral triangle.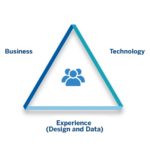 The triangle of the creation model. - BBVA
The second element, 3-6-9, is the creation cycle at BBVA:
Three days to identify the team that will work on the project.
Six weeks to deliver an initial prototype of the project.
Up to nine months to convert the project into a solution in the hands of our customers.
Designers, engineers, data experts
"We have a team of 150 designers around the world who we assign to each project we launch," explains Rob Brown, the Global Head of Design and Marketing for the BBVA Group. "Design plays a critical role in the entire project. My role is to ensure there is a designer for each project and that he or she has the skills needed to develop that specific project."
Together with design, software engineers and data analysis experts play and equally important role in developing products and solutions for customers.
"We have a team of 150 designers around the world who we assign to each project we launch
"Most customers are moving away from analogue channels, from the office and telephone contact centers, toward digital channels. Engineering is at the heart of these new channels," explains Hamad Azzam, Director of Customer Solutions Engineering at BBVA.
Azzam explains that 50% of all of the Group's transactions currently take place using digital tools "without people sitting between the customer and the systems". "Engineers are involved in all steps of the process – the log in systems, data extraction, design and implementation. We have to make sure that everything we create for customers actually works," he clarifies.
Data science, meanwhile, works with customers' data (in an aggregated and anonymous manner) to get to know them better and offer solutions that are aligned to their needs.
"In the development model and triangle, customer experience makes it possible to ensure that the products we offer are actually useful for people," says Elena Alfaro, Head of BBVA Data & Analytics. "For example, from an advisory standpoint, if we use data properly we can completely personalize the way we recommend customers meet their financial goals, and how to manage your finances in a much more simple and personalized way."
Global standards in product development
In parallel to these three disciplines – design, engineering and data analytics – the Global Products and Digital Sales team participates in the entire development process, as it is in charge of creating standards to develop global products that will later be adapted to each market. "Our goal is to create and execute global products," says Charles Schwarz Jr., the director of this department. "Our role in the development model is to provide a global framework that not only serves as a guide, but also as standards to assure truly global products," he notes.