The planet needs all of us. Helping it with a one-hour blackout is something that means very little to each of us, but it is very important to the place where we live — and not just symbolically. For the 12th year since Earth Hour was first launched in 2007 by World Wildlife Fund (WWF, the large independent organization dedicated to the conservation of nature) in 2007, the biggest capitals in the world will turn off their lights to fight climate change.
Once again this year, BBVA will turn off its headquarters around the world at Earth Hour (8:30PM - 9:30PM local time), except in Turkey. There, Earth Hour will take place on Saturday, April 6th due to the elections being held this weekend.
114 BBVA buildings and 183 offices in 10 countries (Spain, Portugal, Mexico, Argentina, Colombia, Paraguay, Peru, USA and Turkey) will participate in this initiative, which aims to raise awareness of the need to use the planet's resources responsible — in this case, electricity.
BBVA City, the bank's corporate headquarters in Las Tablas (Madrid) where the emblematic "Vela" building is located, is one of the largest complexes in Europe to be illuminated with LED technology. It also has a monitoring system with sensors to optimize the use of electricity. On March 30th, at 8:30PM, this headquarters will go dark.
In 2018, 17,000 monuments turned off their lights to join this initiative. This year it hopes to continue breaking records.
United in the fight against climate change
According to the Spanish Meteorology Agency, in Spain, the days have become drier and summers are getting longer and longer (adding 9 days per decade). This is why increasingly  urgent measures are needed to reduce global warming and its environmental impact on our lives.
The first survey on climate change conducted by the European Investment Bank (EIB) and the international market research firm YouGov shows that citizens are aware of the economic cost that would come from not doing anything to address climate change. In Spain, we are aware of this, and 51% of survey respondents say that failure to act will have a negative economic impact due to the rising cost of insurance, energy, taxes and food.
BBVA does not turn a blind eye, and is making an effort to mobilize the capital needed to stop climate change and achieve the Sustainable Development Goals. The bank assumes its responsibility as drivers of change, as well as its responsibility financing companies. With this goal in mind, the bank committed to mobilize €100 billion in sustainable financing between 2018 and 2015.
In 2018, the first year of its commitment, BBVA mobilized a total of €11.82 billion in sustainable financing — €8.13 billion of which was in the form of green financing (green loan certificates, green corporate financing, green project finance, green bonds and green commercial solutions).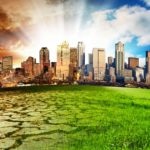 Climate change is already affecting 32 million Spaniards due to the loss of rainy days and longer summers.
Furthermore, BBVA has developed a specific set of "due diligence" environmental and social rules for high impact sectors, such as mining, electricity, infrastructure and agribusiness.
As part of its commitment to manage environmental and social resources and minimize the potential negative impacts- both direct and indirect - BBVA commit to sourcing 70% of the electricity it uses from renewable energy sources by 2025. It also set the goal of reducing its CO2 emissions 68% from 2015 levels. At the end of 2018, 35% of the energy BBVA used came from renewable sources. The bank also managed to reduce its CO2 emissions 30% from the base year (2015).