The European Investment Bank (EIB), together with the global data company YouGov, has published the first-of-its-kind citizens climate change survey revealing popular beliefs about climate change and its economic impact. The study, which involved 25,000 people in the European Union, the United States, and China, exposes the extent to which the general public is concerned about climate change and what it means to their bottomline.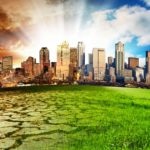 The measures negotiated by governments in the Paris Agreement include efforts to keep this century's global temperature rise from pre-industrial levels  to below 2°C and to strive for a more ambitious limit of 1.5°C,  to reduce greenhouse gas emissions, to collaborate on setting more ambitious goals, to promote transparency, and to fund the fight against climate change.
What does the general public think about these measures? The answer is a mixed bag and depends on the geographical region. According to the EIB survey, as compared to Europeans or Chinese, Americans are more optimistic when asked about the economic benefits of measures against climate change. Only 26% percent of Americans polled believe that climate-related investments could boost the economy and create new jobs, compared to 21 percent of Europeans and 11 percent of Chinese surveyed.
Still, despite this concern, there is general awareness about the economic cost of doing nothing in the face of climate change. Spain's population is one of the most aware of the the issue. Fifty-one percent of Spanish citizens surveyed believe they will be negatively impacted economically due to increased costs associated with insurance, energy, taxes, and foodstuffs. In China, the main concern related to climate change is the impact on health (73 percent), a factor that would also lead to increased health spending per citizen.
Drastic Measures
The experts are clamouring for drastic action against this less than promising future. After receiving the BBVA Frontiers of Knowledge Award, William Nordhaus, Nobel Laureate in economics said: "The main recipe to alleviate climate change is to make sure governments, corporations and households face a high price on their carbon emissions." In light of the negative impact this measure would have on consumer pocketbooks, Nordhaus followed up emphatically: "It is not something that will harm our economy, it will help our economy."
Weighing the potential consumer cost of such measures is inevitable, but the price of inaction is much greater. An Economic Brief released by the Federal Reserve Bank of Richmond, reports that for every degree the average summer temperature rises there is a reduction in the U.S. growth rate of between 0.15 and 0.25 percentage points. Consequently, if measures are not taken against climate change and the temperature continues to rise, U.S. economic growth could fall by as much as one third by 2100, with southern states feeling the greatest impact. Not only would the standard of living drop significantly, but the country's economy would be hit by climatic events resulting from global warming.
With challenges come opportunities, and the fight against climate change is no exception. Everyone can contribute to the health of the planet and and as a consequence, to their own health by practicing daily habits that also happen to be good for the pocketbook.  
Emissions reduction  
Using cars less often, buying energy efficient appliances (category A in Europe, Energy Star certified in the U.S.), recycling, reducing waste, choosing a responsible setting for the air temperature in the home, and saving water are a few of the measures individuals can take that not only decrease the carbon footprint, but also make a positive contribution the household budget.
Investment in green bonds
The market for responsible investments is not slowing down. The first green bond was issued in 2007 by the EIB, and today the market volume exceeds €100 billion euros as a result of year on year doubling. Green bonds are now starting to be the preferred option for people who seek a return on their investment with the peace of mind that comes with knowing that their money is going into projects that are both environmentally and socially sound.
BBVA is one of Europe's most active banks in this area. The bank, together with a group of international financial institutions, recently signed an open letter, to leaders and heads of state who are meeting at COP24. The letter expresses their commitment to financing and supporting customers during the transition to a low carbon economy. Not to be overlooked is BBVA's Pledge 2025, which includes goals such as allocating €100 billion to green financing, social entrepreneurship, financial inclusion, and infrastructure projects.
Financial Education
Having a solid financial education is important in contributing to the fight against climate change. "It is the combination of education and high-quality data that allows consumers and investors to make the right decisions for sustainable development,"explained Olivier Guersent, the  European Commission's Director-General for Financial Stability, at the Edufin Summit 2018. Wim Mijs, director of the European Banking Federation, demonstrated his agreement with Guersent's argument by stating: "Financial education contributes to a better understanding of the need to fight climate change."
Time is running out and urgent action is needed. Everyone has a responsibility to fight climate change, helping make the world better, more sustainable, and more respectful of the environment. Sitting on one's hands is much more costly.