Agustín Antón: "We want to become a lever of development and transformation for this great unknown that Paraguay is"
Reflecting on BBVA's long and successful history in Paraguay, Agustín Antón highlights some of Paraguay's most favorable characteristics, a "country that, grossly overlooked as it may be, is blessed with a number of strengths which translate into great opportunities", as the basis to continue improving as a universal bank in all its aspects.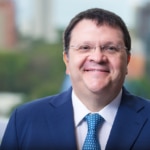 Thanks to the evident strengths of the country's economy - such as its tremendous hydroelectric power generation capabilities, the demographic bonus and its efficiency in the production of grains, meat and other strategic commodities; combined with enviable past and current levels of macroeconomic stability. "In fact, amid a climate of extreme volatility that has dragged most of the region in recent years, between 2011 and 2016, Paraguay has posted annual growth rates of 4.8%, the highest in the region" said Agustín Antón.
This series of competitive advantages, together with the favorable tax conditions and exchange rate regime that the country has kept in place for many years now, confirms it as a very favorable area for the influx of foreign capital. BBVA first landed in Paraguay in 1961. It is one of the oldest private banks in the country and one of the Group's first franchises in Latin America.
In its early years, the bank focused on corporate and business banking, innovating in products and services. Thus, for example, the bank was responsible for the country's first international bond issue, paving the way for the public and private issues that followed. And the bank offered the support for the development of a number of infrastructure projects and agricultural and industrial products.
Building on this wealth of history and tradition, the company todays is ready to take on the challenges set out in its strategic lines, which are in tune with the Group's core business objectives, including: developing and expanding its retail franchise, transforming and improving its digital offering, building stronger ties with the business world, boosting efficiency and offering an improved customer experience, developing its human talent and contributing to society.
Building on the country's positive juncture and the innovation that's always characterized BBVA Paraguay, Agustín Antón concludes that "in a country of opportunities, BBVA wants to help to turn all these potential strengths into a reality, becoming a lever for the development and transformation of this great unknown that Paraguay is".