BBVA ambassadors: Jackson Carr, two worlds and one goal
When three kids try to change the world, passion and effort are guaranteed. But that's not enough. You have to throw in some leadership to get the right balance. Jackson Carr [BBVA Compass] was the missing element for success.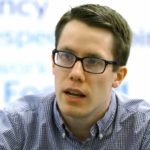 On February 29, Mr. Brian Kelly, CEO of Keurig –the number one coffee brewing system in the U.S. and one of the largest distributors in the world, wasn't only in charge of increasing last year's more than 50 million coffee makers sold globally. He was also sending a message to three kids in Birmingham, Alabama.
Why? These three kids, also known as 'The Variables', are going to represent the state of Alabama at the First Lego League World Festival competition in April of 2016, and they posted on their Facebook page that they are trying to inspire Keurig to make 100% recyclable k-cups as soon as possible. K-cups, no matter how yummy and convenient, are not recyclable yet. "The good news is that Keurig already has an awesome plan to offer recyclable k-cups by 2020… but that's a long way off and we need to inspire the scientists and engineers at Keurig to hurry up, even if just by 6 months!" Not only did Mr. Kelly say he would try to do it faster, but he also sent them an invitation to fly to Boston and meet him and his team at Keurig's lab where they are working on the project.
The Variables' coach is Jackson Carr. He joined BBVA Compass just a few months ago, as a Front-End Engineer."These last few months have been great. We've been working on some development projects. It's been a fantastic experience so far. He agrees banks are probably not the coolest companies for people with his background. But I don't actually feel like I'm working for a bank. It feels like a software company. From the workplace, with its open spaces, to the concept and the methodology. It's all very innovative. BBVA is definitely making a major effort to promote this west coast software development company culture".
That working environment is important for Jackson, who defines himself as a "real geek", which is the main reason why he got involved in a project such as the one The Variables are immersed in. The FLL competition requires students to assemble a robot out of Legos able to autonomously complete various missions. The team must also identify a problem related to the current year's theme, propose a solution, and then share it with others. "Throughout the competition, the team must demonstrate the core values that FLL identifies as exemplary teamwork, camaraderie, and professionalism, he explains. It's been a long process, but a fascinating one".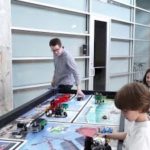 Profile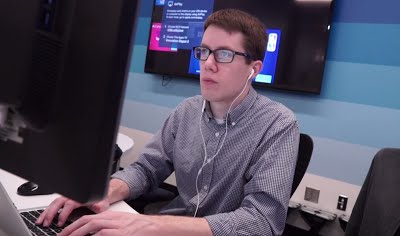 Name: James Carr
Position: Front-End Engineer - BBVA Compass
Function:Developing innovative projects
Hobby:Ping Pong
Dream:Being an astronaut
Among the best in the world
We want to win, answers Carr when we ask him about his expectations for the World Festival in April. "It's not all about winning the contest, but we want to do our best, and that's why we've been trying to reach so many people so we can share our project. Because we really believe in what we are doing. We set a very high goal, because there's going to be more than 118 teams from over 80 countries. This is a once in a lifetime opportunity and we want to enjoy it and take the best from it".
Carr says we have a lot to learn from kids. "They understand what hard work means. But they also want to have fun with it. They're passionate about what they're doing. And not only from their efforts, but also for the way they do them. There's a very important part of this competition which is its core values. There are eight of them. And that is a big deal. I'm proud  to say that these kids live those values for the competition, but in their daily lives too. It's a real privilege working with them".
"BBVA is definitely making a major effort to promote this west coast software development company culture"
He considers himself a lucky person, because he has the opportunity to learn from a lot of people around him, not only the members of The Variables, but at BBVA too. "I'm working with some really talented and smart people, and I feel like I'm working in one of the most interesting areas of the bank".
Jackson is confident that, one way or another, he will make a real impact on the world. Be it by finding new solutions for technological problems or by helping a group of kids on their course for a cleaner environment. He lives between two worlds, but his goal definitely remains one.
"I'm working in one of the most interesting areas of the bank"