BBVA Compass adds Dallas Mavericks forward Harrison Barnes to list of brand ambassadors
BBVA Compass, the Official Bank of the NBA, announced today the addition of Dallas Mavericks forward and NBA champion Harrison Barnes to its roster of brand ambassadors.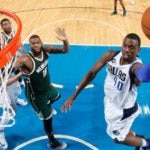 Barnes, one of the Mavericks' newest offseason additions via free agency, is currently the third active NBA player to represent the bank as a brand ambassador. An NBA champion in 2015, Barnes played in the BBVA Compass Rising Stars Challenge, an annual event at NBA All-Star featuring top NBA rookies and sophomores, in 2013 and 2014.
Through 37 games of his first season with the Dallas Mavericks, Barnes averaged 20.6 points per contest, which is the most he's averaged in his five-year career.
"BBVA Compass believes in bright futures, and Harrison Barnes is an extremely talented individual with a bright future ahead of him," said BBVA Compass Dallas CEO Key Coker. "He has solid achievements under his belt, including an NBA championship at a young age, and his interests outside of basketball align perfectly with the bank's focus on innovation, digital transformation and small business."
Harrison Barnes is an extremely talented individual with a bright future ahead of him
Off the court, Barnes' interest in entrepreneurship and technology keeps him up to date on the latest business and economic trends, allowing him to invest in startups and even score an internship with Facebook. As a BBVA Compass brand ambassador, Barnes will represent the bank in advertisements, community involvement activities and speaking engagements.
Other NBA-affiliated BBVA Compass brand ambassadors include current NBA superstars James Harden and Kevin Durant, NBA Legend Bruce Bowen, and Spurs assistant and the first full-time female NBA coach Becky Hammon.
BBVA Compass has served as the Official Bank of the NBA since 2010.