BBVA Compass April Recap: Earnings, community investment and a unified brand
Earnings: For the first quarter of 2019, BBVA Compass reports a net income of $141 million.
Community Investment: The BBVA Compass Foundation donates $1 million to the construction of Avenue Center, a mixed-use community resource center in north Houston.
Unified Brand: BBVA announces that it will launch a new logo and unify its brand across its footprint, with BBVA becoming the Group's name globally.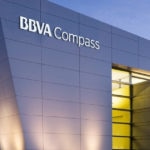 In April, BBVA Compass released its earnings for the first quarter of 2019, reporting a net income of $141 million. Total revenue for the quarter was $932 million, a 6 percent increase from the first quarter of 2018.
Other top news for the month includes the announcement of BBVA's new unified brand. In the coming months, the Group will be deploying a consistent brand across its global footprint by launching a new logo and discontinuing the local names of its franchises. BBVA will become the Group's name globally. Garanti, the Group's franchise in Turkey, will change its name to Garanti BBVA.
Also in April, BBVA Compass continued its commitment to community investment. The bank's charitable arm, the BBVA Compass Foundation, announced its contribution of $1 million to the construction of Avenue Center, a new mixed-use community resource center in Houston's Near Northside neighborhood. In recognition of the bank's donation, Avenue Center's first floor – which will host programming and services in financial and homebuyer education – will be named after the bank when the development opens in early 2020.
Presented below are articles and news from April 2019 that were posted on the bank's online newsroom; global media platform, bbva.com; financial education blog, MoneyFit; and wealth management blog, Wealth Strategies.
---
Corporate News
BBVA Compass reports first quarter results
BBVA Compass reported a net income of $141 million for the first quarter of 2019. BBVA Group earned €1.16 billion in the first quarter of 2019. On a global scale, operating income growth, digital sales and a solid capital position were all key highlights of BBVA Group's earnings for the first quarter of 2019.
BBVA to unify its brand worldwide, changes its logo
As part of BBVA's new unified brand, the Group will be launching a new logo globally and discontinuing the local names of its franchises in all geographies across its footprint (in Turkey, the bank's franchise name will become Garanti BBVA). The change will better convey the bank's digital and global reality and underscore its commitment to providing a consistent customer experience through its global capabilities.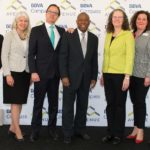 (Left to Right) BBVA Compass Director of Communications and Responsible Business Rey Ocañas, Houston City Councilwoman Karla Cisneros, BBVA Compass CEO and Country Manager Javier Rodriguez Soler, Houston Mayor Sylvester Turner, Avenue Executive Director Mary Lawler, Avenue Board of Trustees President Cassandra Silvernail, and Houston Housing and Community Development Director Tom McCasland at the Avenue Center groundbreaking press conference.
---
Resource Articles
Jon Groch: "Credit cards are a way to manage your cash flow"
It seems like an age-old debate: debit versus credit. BBVA Compass Payments Director Jon Groch dissects the topics of when to use your credit card and how it can assist in your financial journey.
Mortgage Rates Are Moving. Should You Refinance?
Mortgage rates recently reached their lowest point in 13 months, leading many homeowners to ask if now is the right time to consider refinancing.
Homebuyer's Guide
The home buying journey can be full of surprises if you're not prepared. BBVA Compass has prepared a guide to help you along the way.
Home Equity FAQs
There are many benefits to using the equity in your home to access cash. However, it's important to understand how home equity loans and lines of credit work before you decide if home equity borrowing is the best option for you. In this article, we answer some frequently asked questions about home equity borrowing.
Mortgage FAQs
Thinking about buying a home? Get answers to frequently asked questions about mortgages so you can be well informed and make the best possible financial decision for you, your family, and your budget.
Car Buying Guide
Before you purchase a car, take the necessary steps to educate yourself on the buying process. BBVA Compass' car buying guide can help you make a wise decision that works for your transportation needs as well as your wallet.
Your small business is growing. What's next?
A growing business is something to celebrate, but for most entrepreneurs, it's only the beginning. BBVA Compass has listed ideas to help you strategize for continued growth.
Commercial Billing FAQs
Chasing payments takes valuable time and energy, and ties up cash that may be needed to keep your business running. Learn more about Commercial Billing Service, which can help with outsourcing these challenges, maintaining a steady cash flow and freeing yourself and your staff for other tasks.
---
For more information about BBVA Compass, click here.