BBVA Compass Global Wealth team honored by Greenwich Associates award for customer service
BBVA Compass' Global Wealth team was honored recently after it was recognized for its overall operations and customer satisfaction. The bank's team was one of a small handful of wealth management providers to be recognized in the 2016 Greenwich Excellence Awards in Wealth Management.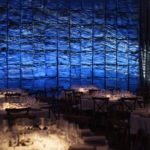 The bank was recognized in two out of the four categories, garnering honors for both Overall Satisfaction and Customer Service.
"We offer not only some of the best wealth management products and services, but also unique experiences that clients wouldn't get anywhere else," said BBVA Compass Global Wealth Management Executive Giampaolo Consigliere. "We share this recognition with the people who support us as well.  This couldn't have been possible without the help of our Global Wealth market executives, branch employees and other internal and external partners."
"We share this recognition with the people who support us as well
The bank's Global Wealth team has provided a number of memorable client experiences in previous years, including an association with auction house Christie's to bring rare artworks, wine and collectibles to exclusive events; and giving clients a rare taste of fine food from the world-renowned Roca brothers. Recently, BBVA Compass became the lead corporate supporter of "Degas: A New Vision" at the Museum of Fine Arts Houston and has been setting up viewings for Global Wealth clients as part of that sponsorship.
Greenwich Associates, which provides market intelligence and other advisory services to the financial services industry, conducted surveys with wealth management clients to determine winners. The surveys were conducted from January to September.
Each category had multiple winners, but only 12 out of 150 eligible financial institutions and wealth investment providers garnered recognition. Eligibility was based on the number of client survey responses and a high number of "Excellent" ratings on those surveys.