BBVA Compass sees successful results in its inaugural Values Day initiative
One year ago, BBVA Compass globally introduced a set of values to help execute its mission of bringing the age of opportunity to everyone.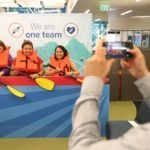 The bank's values were designed to put tangible power behind its purpose and serve as a roadmap to create opportunities for clients and employees alike. To celebrate the one-year anniversary of this important milestone, the bank rolled out its first ever Values Day across its U.S. footprint on June 26, complete with large-scale, company-wide reflection and discussion sessions and trainer-led workshops around the company's values.
I was so inspired by what was happening.
"This is a global day," said BBVA Compass President and CEO Onur Genç. "We are basically taking one day to talk about our values. I was so inspired by what was happening. People were very open. It was a very informal setting. People were talking to each other about whether we live our values in the best way we can, and how we can improve on living up to those values."
BBVA Compass's Values are as follows:
All 10,000+ employees across the bank's footprint participated in the reflection and discussion sessions, called "Values Exchange," which were held at 8:15 a.m. in each region's local time. Sessions were led by employees in a roundtable discussion format, with team members giving specific examples of how they have utilized the bank's values in their day-to-day responsibilities and functions.
In addition, the bank held trainer-led workshops for employees to attend. Throughout the 90-minute sessions, employees were given the chance to discuss how they overcome challenges using BBVA Compass's values.
"We are a purpose-driven organization," said Genç. "That's why we do what we do. And the Values are how we achieve that purpose."
Countries around the BBVA global footprint recently took part in their own Values Day: Venezuela, Mexico, Argentina, Colombia, Peru, Paraguay, and Uruguay celebrated on July 4, while Spain, Turkey, and offices in Europe and Asia marked the occasion on July 5.