BBVA Francés announced today the signing of two sponsorship agreements with which it will become a strategic sponsor of the Argentine football clubs Boca Junior and River Plate.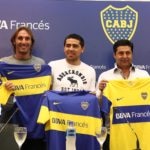 Under the agreements, BBVA Francés will be placed in the center of the gold stripe of the jersey of Boca Juniors, the reigning champion on Argentine soccer. Starting on July 1, BBVA's logo will also occupy a prominent place on the celebrated jersey of River Plate, the team with the most local titles in the history of Argentine football.
Its status as a strategic sponsor will make BBVA Francés a partner of Boca and River, providing a range of benefits to its customers, both directly from these two clubs as well as indirectly. At the club level, customers will be able to make advance purchases of tickets and jerseys, receive merchandising discounts and invitations to events, and visit each cub's museum and use their fields for recreational activities.
The indirect benefits for clients include payment plans and discounts on appliances, clothing and shows.  As part of the agreement with Boca Juniors, the Bank will provide the club with financial advice.
"We are proud to add an Argentine chapter to our soccer history, and especially of the fact that, in this chapter, we will partner with Boca Junior. This is a very important step, with which we are becoming the club's strategic allies," said Martín Zarich, Innovation and Development director for BBVA Francés, at the announcement of the sponsorship of Argentine soccer's current champion. "To see our brand in the gold stripe is the best way to begin the year and allows us to continue to imagine more benefits for our customers and for the club's supporters," added Zarich, after stressing the bank's ties with the Liga BBVA of Spain, of which it is the leading sponsor.
Likewise, at the announcement of the sponsorship of River Plate, Gustavo Alonso, marketing manager for BBVA Francés, underscored the benefits that customers and team boosters will receive from the inclusion of the Bank's brand on River's jersey. "We pleased to move forward in our relationship with Argentine soccer, and we are committed to doing so. Undoubtedly, this is a very important moment because we are becoming strategic partners of this club," he said.