BBVA is hanging out its shingle in San Francisco's financial district
BBVA has moved into larger digs in San Francisco's financial district bringing the teams that will shape its digital future closer together. The bank today opened new offices in the city's Embarcadero Center office complex. BBVA's New Digital Business unit will be located there, along with its Digital Sales and Marketing teams and Spring Studio, a user-experience firm it acquired last year. The teams are all expected to play outsize roles in supporting BBVA's goal of transforming itself through technology.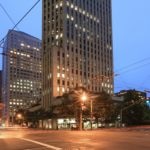 "This is a big day for BBVA," said Teppo Paavola, BBVA Chief Development Officer and General Manager for New Digital Business. "We're continuing to build our future here, and this puts us at the center of many overlapping circles — fintech, investors, tech talent — that we're going to be drawing from as we power ahead."
The New Digital Business unit, headed by Paavola, is involved in venture incubation, mergers and acquisitions, and investing in digital financial services through its US small business investment company, or SBIC, known as Propel Venture Partners. It's also involved in building a Banking-As-A-Service business through BBVA's Open API initiative, where innovators combine their ideas and technology with the bank's to find ways to make banking better.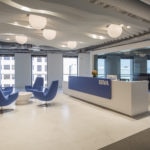 Its executives' credentials are strong, with a long history of entrepreneurship and innovative disruption of the traditional ways of doing things. The head of Open APIs is Shamir Karkal, the former Chief Financial Officer and co-founder of Simple, the neobank that has set a new standard in customer experience. Jose Fernandez da Ponte, previously PayPal's head of Strategy and Emerging Markets, is the unit's head of business development and new ventures.
In addition, former BBVA employee and longtime venture capitalist Jay Reinemann and his team serve as investment advisers for Propel Venture Partners, the $250 million venture fund in which BBVA is the sole limited partner.
Spring Studio, acquired by BBVA in 2015, is tasked with transforming BBVA customers' digital experiences, while Digital Sales & Marketing, led by Javier Escobedo, will drive the adoption of the bank's digital products across geographies.
When fully staffed, the Embarcadero offices are expected to house more than 200 BBVA employees.
The new office in San Francisco open the same week BBVA is bringing three of gastronomy's most respected figures — the Roca brothers of Spain's El Celler de Can Roca, which has landed atop the World's 50 Best Restaurants list twice in recent years — to San Francisco's Julia Morgan Ballroom for a series of pop-up dinners for BBVA clients and guests.