BBVA presents Baby Planner, a new functionality within BBVA's app and website that allows customers and non-customers to understand the expenses associated with having a baby. The monetary expenditure for families with a child under three is 10% higher than for those without, as concluded by estimates from BBVA Research after factoring in other differences between households. This added functionality serves to give new parents the information they need to plan their finances. BBVA Baby Planner also provides the economic effects associated with maternity and paternity-leave and other schemes to offer "work-baby balance."
The birth of a baby has an important economic impact on families. According to BBVA Research estimates, the monetary expenditure of families with a child under three, once other household differences have been factored, is 10% higher than those families without. "When there's a baby on the way, family expenses increase, and BBVA Baby Planner helps with the planning of this new economic reality," states Manuel Moure, Director of Digital Products for BBVA Spain.
According to estimates from BBVA Research, transport, food, and housing account for about half of a household's spend, for both families without children and those with children under three years of age, but the "shopping basket" composition differs based on household type.
In Spain, the allowance for clothes and footwear in the family budget is 1.3 percentage points greater than for families with children under three. The portion of family expenses for education, and property is also higher (1.2 and 0.9 points, respectively). On the other hand, the burden of transportation (-0.7 points), recreation and culture (-1.1 points), and restaurants and hotels (-1.9 points) is relatively low.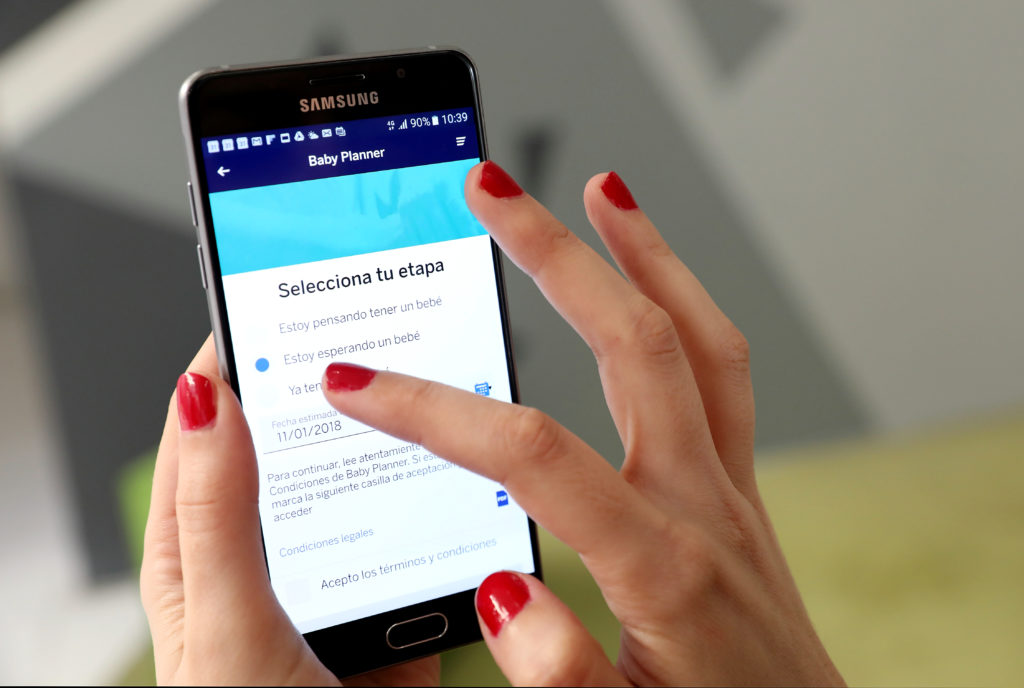 This added functionality serves to give new parents the information they need to plan their finances.
Planning for greater cost control
BBVA Baby Planner provides information that can be used to make better financial decisions in three scenarios: I'm thinking of having a baby, I'm expecting a baby, and My baby's already here. For each of the three scenarios, Baby Planner gives estimates on expenses associated with the arrival of a baby, basic baby-related equipment, monthly baby-care expenses, maternity and paternity leave alternatives, and the possible impact the arrival of a child could have on the family's financial situation.
The baby-related equipment section displays a selection of products that might be needed for the baby's arrival (articles for getting around, for sleeping, and in the bathroom) and provides illustrative pricing for each one. Users of the app can edit the entries according to their needs to personalize the economic impact estimate.
BBVA Baby Planner also helps identify a baby's monthly expenses, from food and clothing to accessories and child-care costs. Just like the baby-equipment section, here the tool provides illustrative prices that the user can modify on a line-by-line basis to adapt to his or her specific scenario.
With this new functionality, "BBVA takes another step forward, joining our customers as the most important moments of their lives unfold, offering a new digital planning tool to help them prepare for the arrival of a baby." Manuel Moure adds.
BBVA has worked on this new functionality for a year. During development, a group of trial users was engaged. They used the tool to address their own needs and provided user experience feedback, ensuring that the tool released into the market was ready to adequately address parents' concerns.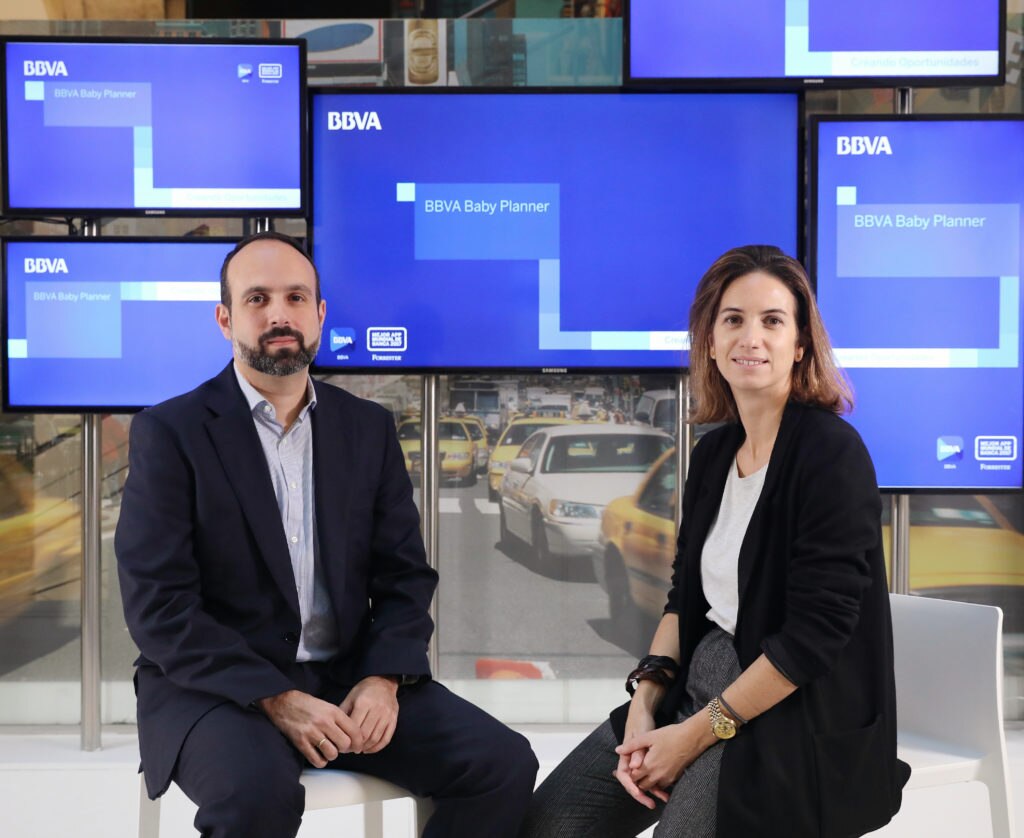 Left to right: Manuel Moure; María Williams.
Options for a "work-baby balance"
BBVA's new tool also offers the option to learn about how reducing one's hours at work or taking a leave-of-absence will impact the family budget. Factoring in income and expenses, the tool will calculate the different maternity/paternity leave and leave-of-absence options and will provide a view of the prospective economic status. In the case of BBVA customers, the calculations use income and expense data already available to the bank, although it can be edited and adjusted, as required.
"BBVA Baby Planner will be available to customers and non-customers alike who will be able to forecast the financial impact implied by the arrival of a baby and consider different 'work-baby balance' options." points out María Williams, Head of Digital Products for BBVA Spain. "It also provides information on interesting topics for future parents, from the necessary paperwork that needs to be done to the car-safety tips for when the baby is in the back seat," explains Williams.
Solid Digital Growth
BBVA continues to grow its digital channels, and in October confirmed its progress towards a highly technological approach to banking, with more than 50 percent of BBVA Spain's customers interacting with the bank through digital channels. Digital sales also confirm this trend: at year end a total of 26.5 percent of sales in Spain were digital.
Forrester Research recently chose BBVA Spain's app as the best in the world and its website as the best in European banking. In its research report, it highlighted functionalities like BBVA Valora, which goes beyond financial services and helps customers and non-customers when looking for a home. In this context, the financial institution recently introduced BBVA Bconomy, a tool customers can use to evaluate their financial health and receive appropriate personalized recommendations.
BBVA Baby Planner epitomizes the philosophy of going beyond traditional financial services by providing necessary data for life's most important decisions, those decisions with real impact on a customer's financial state, like buying a house or having a baby.