BBVA is developing payment methods based on biometric technologies to make checkout at stores 'invisible'. It is already being used in cafeterias and restaurants at Ciudad BBVA. More than 1,000 employees already use an app to automate payments and testing has begun on a biometric facial recognition system based on technology from the startup Veridas, a JV of BBVA and Das-Nano in 2017.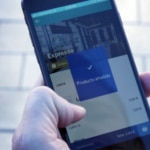 The invisible payment revolution has reached Ciudad BBVA. More than 1,000 users can now order a coffee, pick it up without waiting in line and pay for it without their wallets. They do so thanks to an app that also allows you to reserve a table, eat and leave without even asking for the bill. Customers just need to waive to the waiter, who will verify their reservation in the system so that the bill is automatically registered in their account. If you want, you'll always be able to see the content and amount on your account during the meal. When you finish, you can leave whenever you want without any type of additional interaction being necessary (neither with the app, nor the waiter).
The new payment system is part of BBVA's determination to lead the development of invisible or frictionless payments in order to transform customers' purchase experience in stores. This new trend allows the payment part of the purchase process to "disappear" or to be made practically non-existent for the user. The app was designed along with Sodexo Iberia, the Group's restaurant partner. It forms part of a pioneer project in the world to first bring these new experiences to the restaurant and cafeteria sectors, and later to other stores. The next step in developing the project will be the integration of biometric technologies, which will give a new meaning to the expression "face value".
"With this project, we're eliminating the friction points for customers when they make a purchase in a store. They avoid lines, and have a more digital experience with better information," BBVA's Head of Global Payments Ignacio Bañón, said.
The Group is working to make invisible payments possible through pilot projects with large firms in different sectors"
The app not only automates payments, but it allows you to make reservations from a smartphone, reducing the time you wait at restaurants. In this way, customers can show up, sit at their reserved table, eat and leave directly without having to ask for the bill or manually pay. Thanks to this system, users now save between 7 and 10 minutes, and restaurants have recorded increased billing and productivity. "The system benefits both the customer, who doesn't require as much service, and the restaurant, which no longer has to manually charge the customer," adds BBVA's Bañón.
To automate payments, the user just needs to first register in the app and enter their credit card details. The application also offers the possibility to share the payment with other users by sending a message directly from the app.
Payment with zero clicks
The application also optimizes the activity of Sodexo cafeterias at BBVA headquarters, where customers are served quicker. In these establishments, the system allows users to select the specific products they want to consume so that they are ready to be picked up without waiting in line. In addition, the system allows scheduling favorite orders that can be automatically ordered and paid by just opening the app.
"We call it the 'zero click' payment, the customer just has to open the app and their favorite order will already be set, which they can pick up and take away without even having to take out their cell phone again," adds Bañón, Once the customer picks it up, their card is automatically charged. It is the fastest solution on the market, because the order is made in a matter of seconds.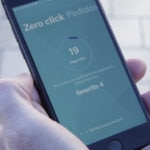 10% of the orders made on Expresso, one of Ciudad BBVA's most frequented cafeterias, are now made via the app.
BBVA is also implementing a customer loyalty solution within the app, which accesses offers and promotions. In one month of use, the application has been downloaded by more than 1,000 employees, around 15% of all those who work at BBVA's headquarters in Madrid. In addition, 10% of the orders made on Expresso, one of Ciudad BBVA's most frequented coffe shops, are now made via the app. As for the establishment, the use of this new system has increased the average total expense by 50%.
Paying 'face value': the next step
In addition to cafeterias and restaurants, a common feature in work centers like Ciudad BBVA are the self-service restaurants, where users pick up products themselves and take them to the table on trays.
To improve the experience in this format, BBVA is already working on developing a facial recognition system to allow users to pick up their food and sit down directly, without needing to make a manual payment, or for anyone to check the user's identity. The system, which is already being piloted, recognizes the user's face through cameras equipped with artificial intelligence, and directly charges the card associated with their profile.
The system uses machine learning algorithms to identify both the faces of users and products on the tray"
The tests are being carried out in BBVA's Central restaurant, a establishment that each day hosts an average of 2,000 people within a period of just two hours and offers more than 15 different menus. The project is being carried out with technology from Veridas, the JV biometrics firm that BBVA created in 2017 along with Das Nano. The firm specializes in developing software to digitally verify and authenticate one's personal identity through facial, voice, image, document or fingerprint recognition. In this case, the system uses machine learning algorithms through which the machines 'learn' to identify both the faces of users and products on the tray in order to make the correct charge on their card.
Making payments is an area under drastic transformation, with different trends now being combined in an ever changing competitive arena. "Our aspiration is to create new payment experiences that help people and stores to improve their lives and businesses, something that forms part of our strategy to turn digital banking into an aide for customers," explains Bañón. In fact, the Group is working to make invisible payments possible through pilot projects with large firms in different sectors: restaurants, cars, food and fashion.
With around 7,000 employees, and more than six points of sale in different formats (restaurants, cafeterias, etc.), Ciudad BBVA represents an ideal test platform for exploring new forms of payment. "We are very happy to be working with BBVA on this innovative project. For Sodexo, a company dedicated to improving quality of life through our services, it's enormously interesting to have access to payment solutions that contribute to optimising customers' experience," said Sodexo Iberia president, Carina Cabezas.