This Wednesday BBVA will hold the BBVA Sustainable Finance Forum, bringing together investors, businesspeople, institutional representatives, and sustainable finance experts with the aim to boost the finance industry's role in sustainable development and the fight against climate change. Taking place at BBVA's headquarters in Madrid, the forum will be inaugurated by the Francisco González, Group Executive Chairman of BBVA, and Spain's Vice President, Soraya Sáenz de Santamaría.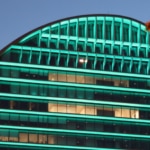 BBVA is the banking industry's pioneer in the commitment against climate change and one of the world's leading banks in sustainable finance (green and social). In fact, BBVA recently issued a green bond, the first of its kind by a Spanish financial institution and the largest in the eurozone. It is also one of the most active bookrunners in the green bond market.
As a leader with a demonstrated commitment to sustainability, BBVA has organized this forum, which will consist of four panels with various experts debating topics related to sustainable finance, the incorporation of environmental and social elements in financial activities, and ultimately, the need to facilitate the transition to a low carbon economy.
Why do companies incorporate climate change into their strategies? This is the question that will be debated by the participants in the forum's first panel: Chairman and CEO of Iberdrola, Ignacio Sanchez Galan; Josu Jon Imaz, CEO of Repsol; and Isabelle Mateos y Lago, member of BlackRock Investment Institute. The debate will be moderated by José Manuel González-Páramo, BBVA Executive Board Member and Head of Global Economics, Regulation, and Public Affairs.
The second panel will address how sustainable finance is taking on a new role in the global agenda. BBVA's Global Head of Responsible Business, Antoni Ballabriga, will lead the discussion on this topic. This debate will be joined by Simone Dettling, Banking Team Lead of the United Nations Environment Program - Finance Initiative; José Manuel Marqués, Head of the Financial Innovation Division, Bank of Spain; and Wim Mijs, CEO of the European Banking Federation.
Institutions are key players in the new sustainable paradigm, and they have recognized the important role they play in driving the transition towards a sustainable economy. Invited to speak on this topic are Pablo Zalba, Chairman of Spain's Official Credit Institute (ICO); Birthe Brunh-Léon, Director, Iberia Operations, European Investment Bank (EIB); and Valvanera Ulargui, Director General of the Spanish Climate Change Office. Cristina de Parias, Head of BBVA Spain will moderate this debate.
The final session of BBVA's Sustainable Finance Forum will serve to produce sustainable finance solutions. Ricardo Laiseca, BBVA's Head of Global Finance, will be responsible for overseeing the opinions expressed by the panel: Gerassimos Thomas, the European Commission's Deputy Director-General for Energy; Philippe Zaouati, CEO, Mirova; and Muriel Caton, CEO of Vigeo Eiris Enterprise.
Organizing the BBVA Sustainable Finance Forum initiative is a great example of BBVA's efforts to encourage and drive the development of the banking industry's active role in the common goal of creating a sustainable economy and putting a halt to the damage caused by climate change.
Last February, BBVA announced Pledge 2025, which outlines its strategy on climate change and sustainable development in line with the United Nations' Sustainable Development Goals (SDG) and the Paris Agreement on Climate Change. BBVA has committed to mobilizing €100 billion in sustainable finance for eight years, with a threefold purpose: financing, management, and engagement.