BBVA presents an innovative and sustainable project for its new headquarters in Madrid
BBVA presented the project for its new Madrid headquarters today at an act attended by city mayor, Alberto Ruiz Gallardón, and the Bank's Chairman & CEO, Francisco González. The new complex will be located in Las Tablas, a fast-growing area in the north of the capital city. It will be ready by 2011 to receive the first employees. Sustainability and innovation are key aspects of this project, which has been created by architects Herzog & de Meuron.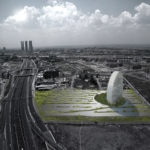 The new BBVA headquarters will be an icon of 21st century Madrid and Spanish business dynamics, said Francisco González during the media presentation. The mayor of Madrid, Alberto Ruiz Gallardón, BBVA Chairman & CEO, Francisco González, and architects Jacques Herzog and Christine Binswanger all emphasized the unique nature of the project and the major boost it will give to Madrid during the press conference held at the Palacio del Marqués de Salamanca.
"This project", stated Francisco González, "is a total fit with our Principles, People and Innovation strategy". He added: "BBVA is implementing a high quality project, which will be emblematic for Madrid and help build the city".
Up and running from 2011
The project contemplates a carpet, a square and a tall disc-shaped building that all underpin its uniqueness and emblematic nature, according to the description released by Herzog & de Meuron (see note attached).
BBVA´s new headquarters which will cover an area of 100,000 square meters above ground, will be operational in 2011, when some of the 6,500 BBVA employee´s in Madrid will start to move in.
In addition to its aesthetic and architectural uniqueness, BBVA´s new headquarters in Madrid will have two other key features: a clear bet for the environment and sustainability and the creation of an accessible and friendly space, making wide use of technologies and communication tools to facilitate the personal and professional development of BBVA employees.
In regard to the environment, BBVA´s headquarters will hold LEED (Leadership in Energy & Environmental Design) certification, which will have significant ramifications in the area of environmental efficiency.
The project envisages energy savings of 30%, a 35% reduction in greenhouse gas emissions, 30 to 50% lower usage of water and 70% savings in waste treatment.
This commitment to protecting the environment forms part of the Group´s global environmental efficiency plan unveiled several weeks ago, the main objective of which is to reduce CO2 emissions by 20% to 2012.
Secondly, the new headquarters is a fundamental tool for incorporating cultural change into new working methods, increased flexibility and a more collaborative environment.
The objective is to improve the professional and personal quality of life for BBVA employees, through a headquarters which is easily accessible (public transport/private parking) and offers a working environment that is friendly (horizontal, natural light, green areas and services) and efficient (technology, collaborative, flexible).
Lastly, the new building will be an innovative and sustainable project that will be emblematic for Madrid, making the north of the city more dynamic.