BBVA Research | Geo-World: Conflict & Social Unrest
The usual "known unknowns" continue to be alive and new ones could join this year. In the short term, the anti ISIS offensive continues and still far from being solved. Meanwhile the long lasting conflict between Russia and Ukraine looks to escalate. North Africa and the Middle East will continue to be the main hot spots in 2017, but higher political and geopolitical uncertainties could arise all over the world. The rise of populism and constrains to the flows of people (anti-immigration) and trade (protectionism) will challenge the international rules and globalisation. The new agenda by the US administration and the response of China, Russia and the Middle East, as well as uncertainties in Europe (elections and the Brexit) will continue to shape the dynamics of the geopolitics of the coming years.
For more information, please visit BBVA Research's website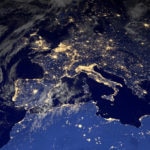 BBVA Research world conflict map 2016-17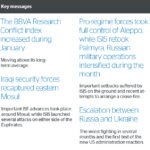 Instability and geopolitical risks come to the fore once again as the main risks for 2017, with North Africa and the Middle East as the key hot spots but new test coming. Political instability in North Africa and the absence of any signs of a solution to the Syrian conflict pose big challenges for 2017. Restrain of people and trade flows could derive in social unrest while the New US administration foreign policy is still undefined.